Digging New Vegetable Beds
February 2009 - The Kitchen Garden Journal - Miranda Hodgson
next journal entry: Odd Jobs in the Garden
previous journal entry: Winter in the Kitchen Garden - Too Cold and Wet
Kitchen Garden - journal index
February 2009 - Digging new vegetable beds
During the first week of February we had snow, with up to 20cm in part of Oxfordshire. It stayed on the ground for several days and so we left the garden until it thawed out before doing any more digging.
Where we were living at that time, some kids made a giant snowball out in the road and I watched out of the window as they rolled it along. It gathered snow as it went, leaving a winding path of snow free tarmac, and eventually it became too big and heavy for them to move it any further so they abandoned it in the middle of the road, where it stayed for two days. Eventually a couple of men from nearby houses came and moved it a few feet towards the kerb. The temperature was low enough that it just sat there, not melting.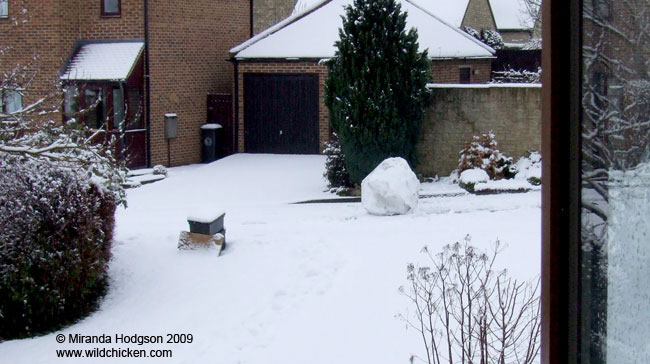 Lying in bed one night, I had the idea of going out and carving something into it, a flower or a face, but the next morning someone had broken it up with a spade and there was just a heap of lumps remaining.
Up at the garden, the snow lay thick and the pond had a thick layer of ice on it. The garden looked tatty and desolate, the snow highlighting last year's raspberry stems leaning every which way and tangled growth poking through in the areas that we had not yet prepared.
We could just see the garlic and onion shoots poking through the snow and we naturally wondered if they'd be okay. They were, of course, because snow provides an insulating blanket that protects the young shoots from the worst of the freezing weather.
After checking that the plants were still alive and that the water pipe hadn't frozen, we went home again.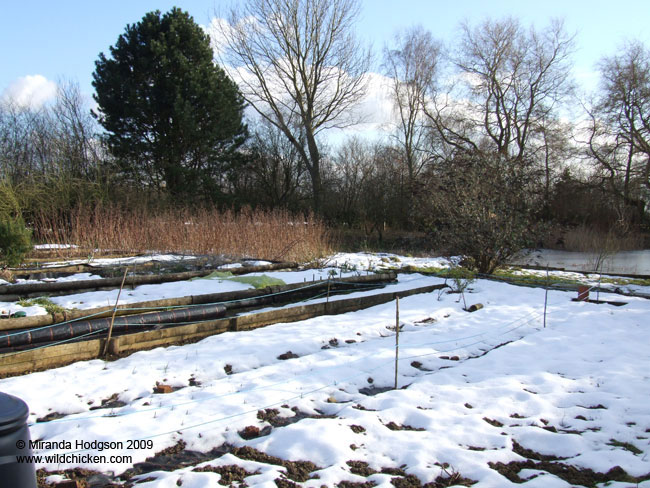 The weather thawed towards the end of the month and we got back to the digging again. We had originally dug three beds in a row and we decided to join them up because we thought that the grass between them would become annoying to cut. It was another big dose of mattock, azada and fork, but it kept us warm and we got enough space to plant the seed potatoes we'd bought and which were chitting at home. We planned to put in Anya, Sante and Desirée.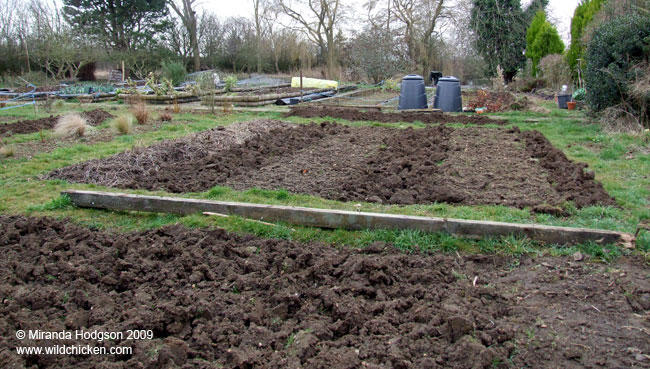 © Copyright Miranda Hodgson 2009
next journal entry: Odd Jobs in the Garden
previous journal entry: Winter in the Kitchen Garden - Too Cold and Wet
Kitchen Garden - journal index