Sisyrinchium
'California Skies'

Garden Plant Information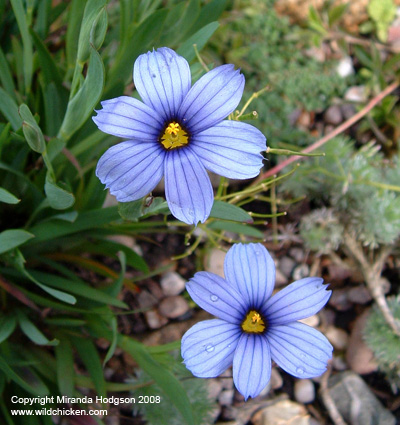 Name
Sisyrinchium 'California Skies' (also called California blue-eyed grass)
Genus  
Sisyrinchium
Species
Cultivar/variety
'California Skies'
General description
Low growing, hardy, herbaceous perennial grown for the many blue flowers it produces from spring to autumn. Good for the front of mixed borders, alpine gardens and containers.
Season of interest
Blue flowers from spring to autumn.
Key horticultural features
Habit - fairly lax, grass-like foliage. H: up to 12cm. S: 15cm

Stem - flower stems are slender and lily-like.

Leaves - grass-like, mid-green.

Flowers - up to 2cm across, six petals in sky blue with up to six darker blue lines. Petals are dark blue at the base and the flower has a yellow throat.
Cultural details
Aspect
Sun to partial shade.
Soil
Any well-drained soil of average fertility.
Hardiness
Frost hardy.
Maintenance
Little needed. Self seeds so unwanted seedlings need to be removed.
Propagation
Either allow to self seed or divide plants when they are dormant, from late autumn to early spring.