Discovering What you Find in Thatch - a Sad Story
November 2008 - The Kitchen Garden Journal - Miranda Hodgson
next journal entry: Planting Onions and Garlic
previous journal entry: Preparing Beds for Winter
Kitchen Garden - journal index
November 2008 - Discovering what you find in thatch - a sad story
We decided to use make use of straw in the garden after meeting a group of thatchers who are renting a barn here for storing their straw and thatching equipment. They're nice blokes, sturdy, cheerful outdoor types and we occasionally drop in on them for a cup of tea and a chat. There they'll be, sorting straw into bundles and splitting the hazel staves for fixing it down – they're generally ready for a quick cup of something.
Sitting in a dimly lit barn at a rather untidy table, surrounded by piles of straw and with robins flying about, or watching us from the sidelines, has a certain timeless pleasure. We're usually pretty unkempt by the time we call on them, with muddy boots, stained trousers and filthy hands, having usually spent several hours working in the garden. We don't feel out of place next to the streaks of owl shit that run down the walls from high ledges.  
When we went into the barn the other day, I noticed that a table had been set up showing a selection of the life that the thatchers find in old roofs. There are huge clumps of algae, thick patches of moss which must have been growing for years, grasses and sedums. There are wasp's nests, wasps and beetles.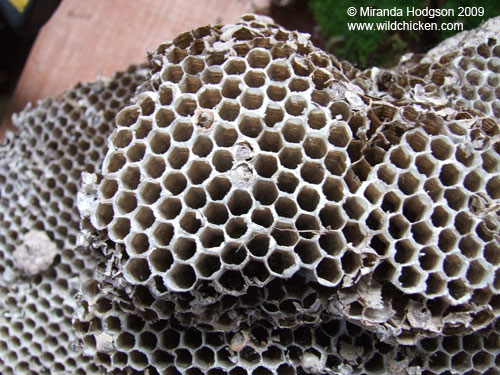 And, there at the edge of the table, was one of the saddest things I've ever seen, a sparrow, long dead, trapped in wire netting. At that house, the owner had asked for netting to be put over the new thatch with the idea being that the netting would prevent birds from nesting and mice and rats from tunnelling in.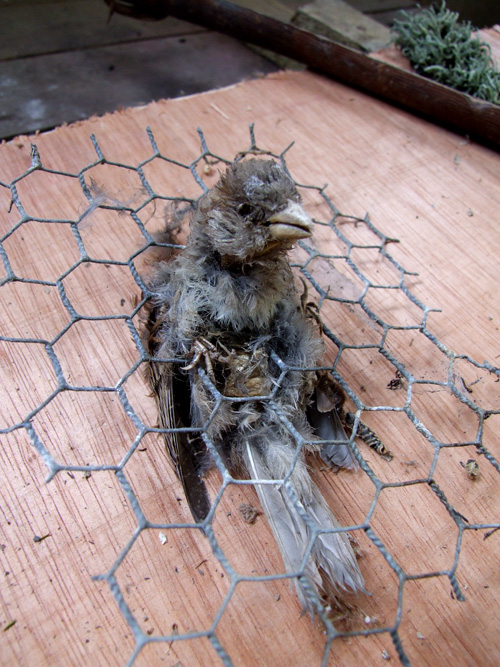 Unfortunately, this thatch had been put up when the birds were nesting and when the birds tried to leave their nest, they found the way blocked by wire netting. They tried to get through the gaps but found themselves trapped and there, bound tight, they died of hunger and thirst. I looked at the little body and felt an awful combination of sorrow and anger, sorrow that this little bird had to die because of someone's thoughtlessness and anger at the stupidity of the people who carried out the job without thinking through the consequences of what they were doing.
These thatchers refuse to put netting over their roofs and try to tell people what can happen. They told us about finding whole families of dead birds trapped in thatching wire and of a man who had his roof wired to keep out a rat which made a hole in the straw.
The rat, like the birds, had also been wired in and made another 25 holes trying to get out. Divine retribution.
So, if you need a good thatching job doing, try the Rumplestiltskin Thatching Company.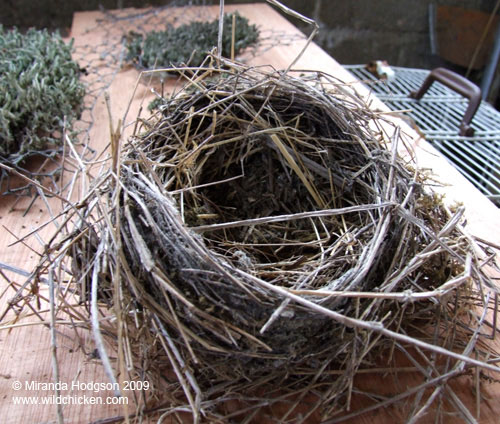 © Copyright Miranda Hodgson 2008
next journal entry: Planting Onions and Garlic
previous journal entry: Preparing Beds for Winter
Kitchen Garden - journal index