Preparing Beds for Winter
November 2008 - The Kitchen Garden Journal - Miranda Hodgson
next journal entry: Discovering what you Find in Thatch - A Sad Story
previous journal entry: Starting Work on the New Kitchen Garden - Part 2
Kitchen Garden - journal index
November 2008 - Preparing Beds for Winter
 With the big bed dug over and the stump removed, it was time to get on preparing the ground for next year and I decided to have a little experiment.
Karl had already dug out the onion and garlic beds and now he skimmed the turf off another three, all 6m by 1.2m, leaving grass paths between them. I wanted to try courgettes in one and squash in another and as the ground was newly dug out meadow, I decided to prepare them now to get them good and ready.
I swore after the last time that I would never double dig again, ever, but in this case it seemed like a good idea. I didnít do it perfectly but did go down two spade depths and spent a long, long time removing fragments of bindweed root and the roots of other weeds. It was very hard work but the resulting soil, compared with how it had been to start with, was beautifully crumbly.
A pile of manure had been sitting at one side of the garden for years and Mrs Mawle told us to make good use of it, so I mixed in several barrow loads as I went along. Once the manure had been dug in, I pulled the soil up into a ridge so that the claggy soil would drain well over the winter.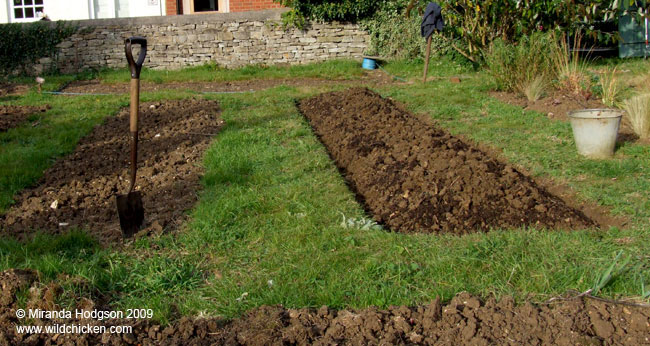 The thatchers had a load of old straw that they wanted to get rid of and were happy to let us take several dumpy bags to use for mulching. I laid a thick mulch of straw over the newly dug and mucked beds and then covered everything over with a dark coloured horticultural fabric.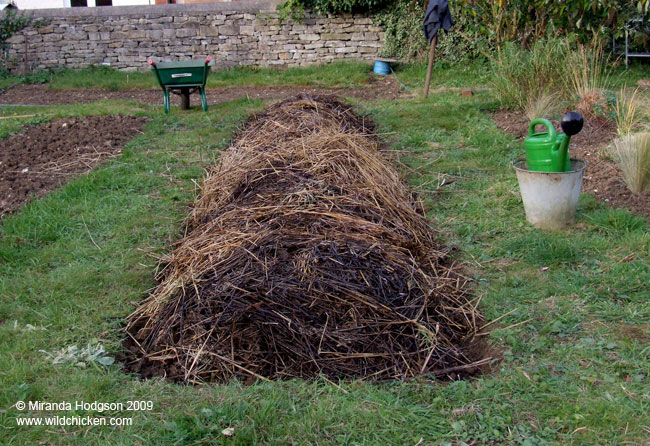 The idea was to leave it covered until the following spring. What should happen is that the extra warmth provided by the straw and fabric will keep the worms and microorganisms more active and they will spend the winter and early spring mixing the soil, so that when it is finally uncovered, it will be in a good condition for planting into.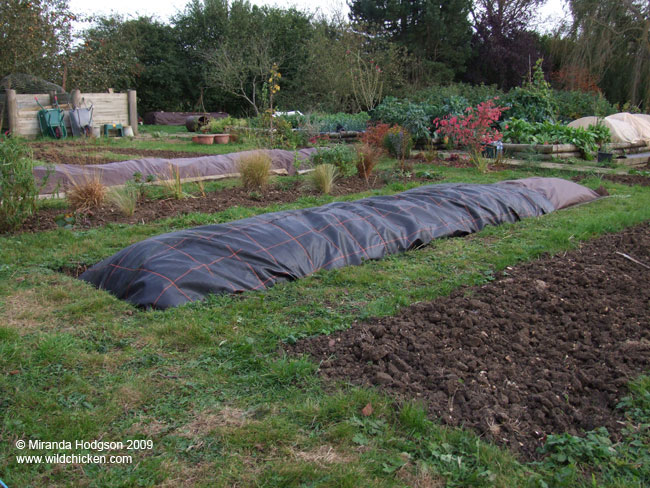 © Copyright Miranda Hodgson 2008
next journal entry: Discovering what you Find in Thatch - A Sad Story
previous journal entry: Starting Work on the New Kitchen Garden - Part 2
Kitchen Garden - journal index