A Frenzy of Planting & Sowing
April 2009 - The Kitchen Garden Journal - Miranda Hodgson
next journal entry: Brassica Cages
previous journal entry: Soil and a Wheelbarrow
Kitchen Garden - journal index
April 2009 - A frenzy of planting & sowing
The weather has warmed, the trees are leafing out and the fruit trees are a mass of flower buds.
Best of all, we have moved into a funny little house. It sits at the end of a long drive at the back of a garden and used to be the stables belonging to a wealthy family, in the days before cars were invented and people still travelled by horse and carriage. After conversion, it makes a small, cosy cottage. The walls are of stone and are 18 inches thick. Outside is a large courtyard that holds a double garage, an old coal shed and another shed for all my pots and trays. Three sides of the courtyard are walled with the fourth side being made up by the house. We have big solid double gates to drive through and another smaller one for walking through. We keep them shut just because we can and revel in the privacy.
Outside the kitchen window at the end of a long walled garden, is the big house and between us is a magnificent magnolia tree which was in full flower when we moved in. On the day we came to see the house, a large cherry tree was blooming in the garden and was dropping petals in gentle showers, like white confetti.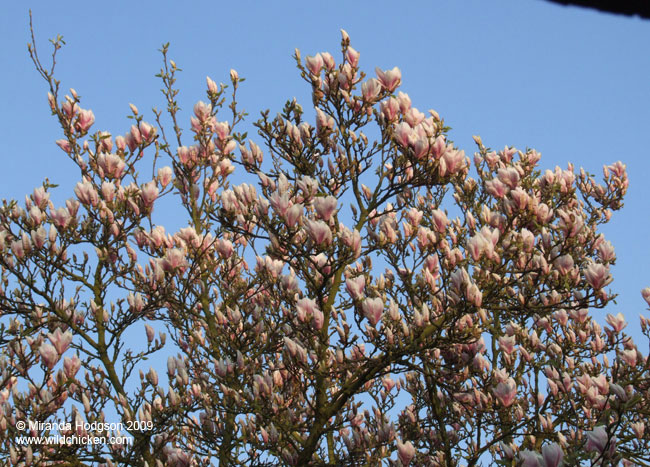 The courtyard has one soil bed running alongside the path that leads to the front door and during the first week there, I sowed a mixture of flower seeds so that we'll have summer colour. In the middle of the courtyard is a square of fine gravel surrounded by a slabbed area and the rest is covered with sandy coloured pebbles. There is ample space for a greenhouse, a couple of cold frames and a great many pots and containers, with plenty of space left over for two benches, a table and chairs.
With this set up, I have a frenzy of sowing and every tray and small pot that I own comes into play, filled with seedlings of beans, cabbages, spring onions, lettuces, stir-fry greens, courgettes, herbs, squashes and flowers. The courtyard is warm and sheltered and soon the pots and trays are filled with greenery, following which there is the usual juggled relay of potting on – making sure that by the time one lot is ready to be potted on from the trays, there are enough of the right sized pots to take the plants. This goes on from first seedling to, in some cases, the 3 litre pot size. However many pots I have, even when there are 500 of them, it is always a struggle to find enough of them.
The garden is looking good. The beds are dug and ready and the onions and garlic are a short green forest of lushness. The first tufts of carrots, parsnips and radishes are showing in neat, leafy rows. In the raspberry bed, all the new shoots are suddenly leafing out into feathery mounds of greenery, with the promise of summer and autumn fruit to come.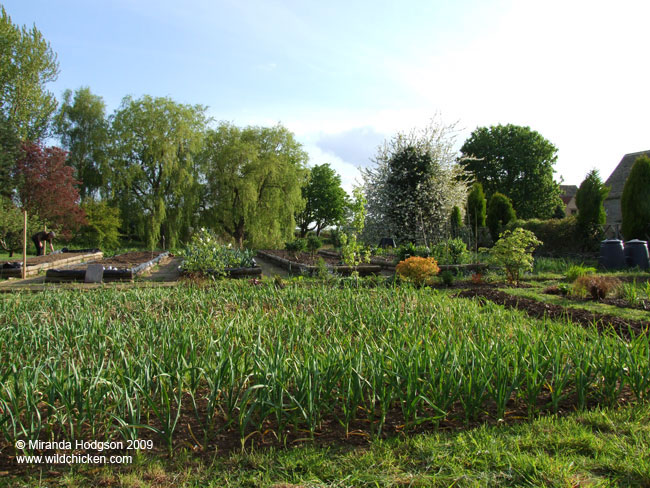 Around the pond the willow trees have suddenly burst into leaf and a dark red cherry is blazing in the sun. Everything shines, the birds sing, the breeze is soft and the air is full of hope.
Working in such a beautiful setting can be strangely difficult – there you are, diligently sowing, planting or digging and then some sound of bird song or a rustling in a nearby hedgerow catches your attention and you straighten up and stop to listen. As you stand there, you become aware of other sounds, of the warmth of the air, the absence of mechanical noise, that certain indefinable something in the atmosphere and you feel overwhelmed with peace and the rightness of it all and just stand, for who knows how long, and exist in a glorious moment of peace and warmth.
Life must have been this way once. People would rise from their work and look out across landscapes softened by woods and fields and they would stop and breathe in the glory of it with every part of their being. I guess we're feeling a tiny bit of what they had.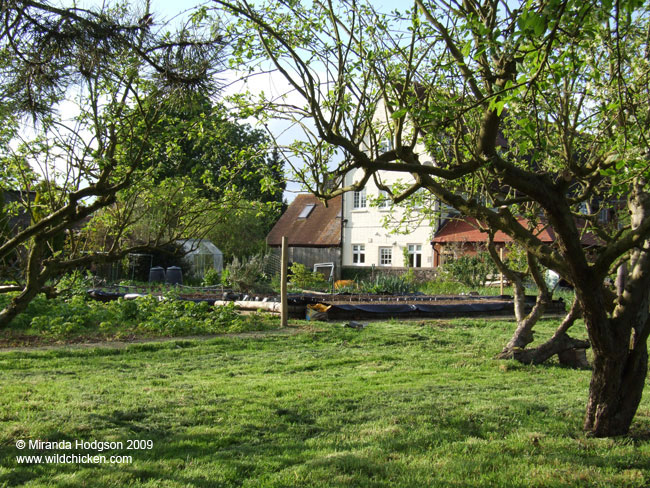 © Copyright Miranda Hodgson 2009
next journal entry: Brassica Cages
previous journal entry: Soil and a Wheelbarrow
Kitchen Garden - journal index