Brassica Cages
May 2009 - The Kitchen Garden Journal - Miranda Hodgson
next journal entry: Onion and Garlic Harvest and some Scary Courgettes
previous journal entry: A Frenzy of Planting and Sowing
May has been a busy month - see: The Composting Toilet Project / Building a Straw bale Composting Toilet
Kitchen Garden - journal index
May 2009 - Brassica Cages
The cabbages have been planted out and we realise that we need to protect them from their main pests Ė cabbage white butterflies, pigeons and muntjac deer. The cabbage whites lay eggs on the leaves and the resulting caterpillars can make a real mess of the cabbages in short order. The pigeons peck the plants apart and the muntjacs take big bites.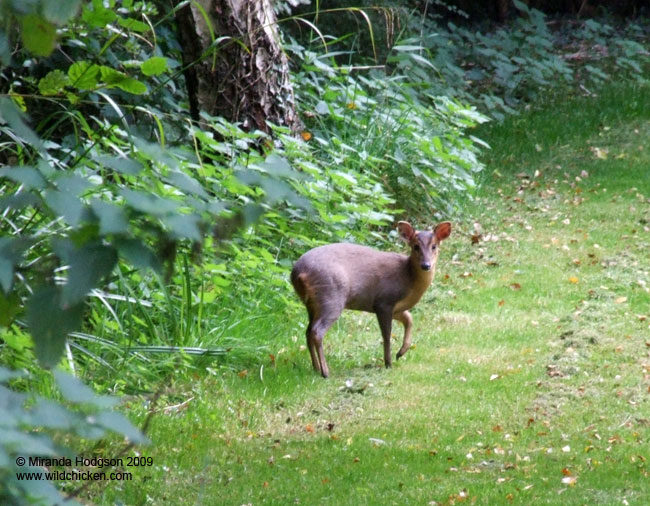 The muntjacs take big bites of a lot of things, actually. I had a pretty Hebe in one of the ornamental beds and they ate the lot, then they nibbled what had been a metre high variegated ornamental Euonymus down to about 8cm. Admittedly, this did it some good because it needed a good prune and it has grown back a lot better. The muntjac havenít touched it again, so maybe they donít really like it.
To protect our precious greens, Karl made some cages out of scrap wood and some of the wire netting that the thatchers were going to throw out. Each side can be wired to another to make a big box shape and they can be easily moved or dismantled when needed.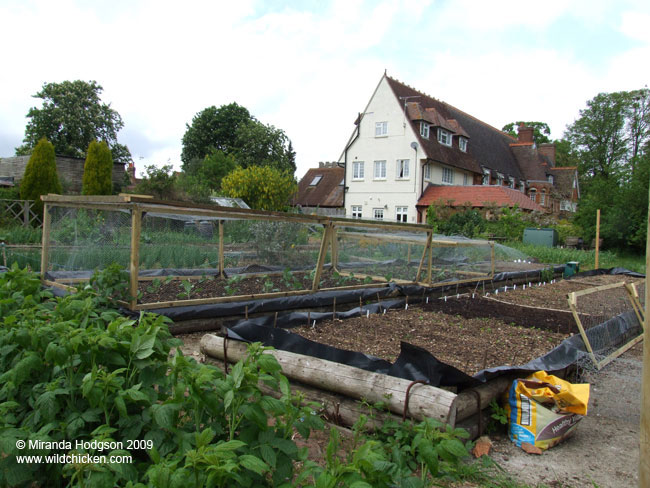 Also protected from the ravages of the muntjac are 50 broad bean plants that were started off in one of the cheap plastic greenhouses that we put up at the garden. There isnít a lot to those greenhouses but they provide some shelter for seedlings.
The shallots that we planted out at the end of March are romping away and we are hopeful of a good harvest from them. Many of the bulbs we planted out were nice and fat and Iím eager to see what they produce.
In the courgette bed, I put in six plants and at the end of each bed I planted three pots of Oca. We also put some Oca in one of the raised beds and have ten large pots of them in the courtyard. On the courgette bed, as soon as the planting was done, I mulched the soil with a thick layer of straw, old hay and dried out grass cuttings. This will keep the young plants warm and should keep the moisture in and help keep the weeds down.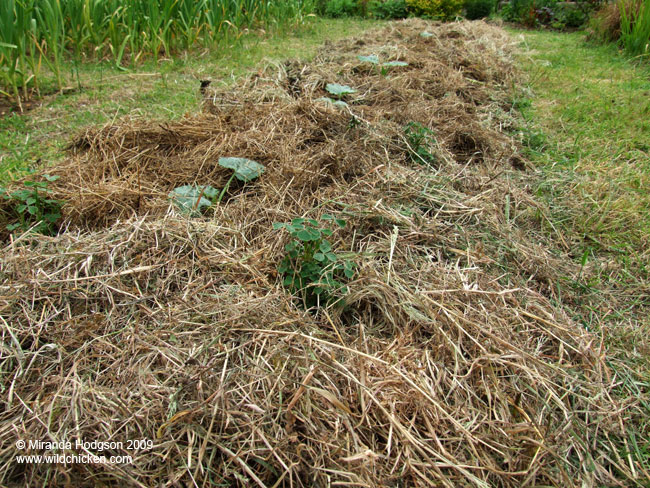 John and Jenny left this month and we were sorry to see them go. I wish they hadnít gone so soon and find myself looking wistfully at their house as we drive by, but we intend to meet again in NZ.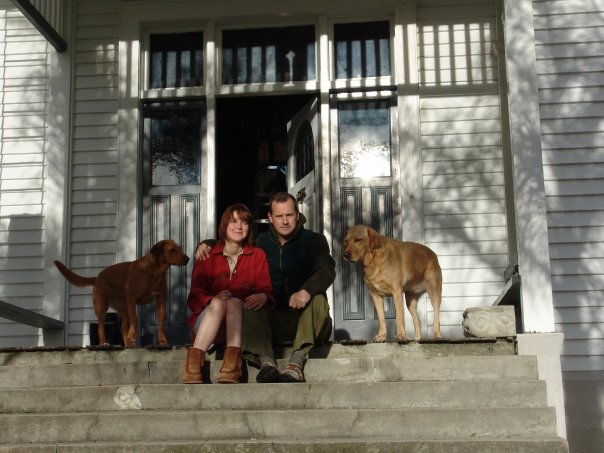 © Copyright Miranda Hodgson 2009
next journal entry: Onion and Garlic Harvest and some Scary Courgettes
previous journal entry: A Frenzy of Planting and Sowing
May has been a busy month - see: The Composting Toilet Project / Building a Straw bale Composting Toilet
Kitchen Garden - journal index