Preserving the Harvest
August 2009 - The Kitchen Garden Journal - Miranda Hodgson
next journal entry: Crown Prince Squash and some Marrows
previous journal entry: The Dreaded Potato and Tomato Blight
Kitchen Garden - journal index
August 2009 - Preserving the harvest
The green tomato chutney was just the beginning of a preserving frenzy, the likes of which I have never experienced before. It seemed that every time we went to the garden we came home with another boot full of produce that needed dealing with.
Everything seemed to be ready at once and we couldnít eat it all at once, or leave it in the ground for much longer, so we had to do something else with it. Iíd already made a load of Kimchi and looked to the books for other ways of preserving the harvest.
 The 2009 damson harvest was the best Iíve ever seen and the trees were absolutely laden with ripe fruit. The grass under the trees was a thick carpet of purple damsons, all still good, so we gathered them up and took them home. I made some two dozen jars of jam and Karl started his first experiment with wine making. If the wine goes well, and you use the right yeast, it is supposed to turn out similar to a Shiraz. Well, weíll see about that, but weíll know in a couple of years. We may just end up with a large amount of damson vinegar.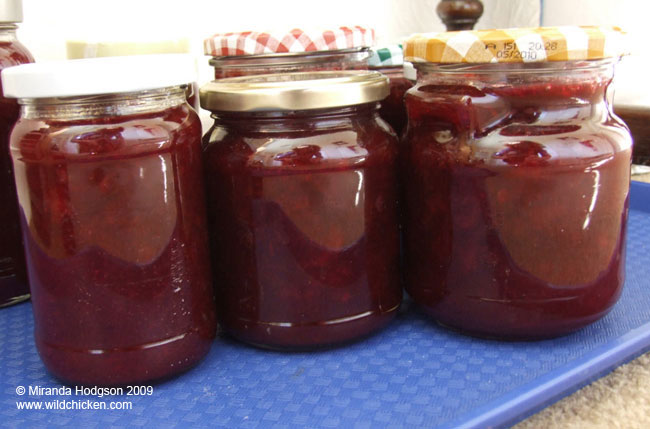 Broad beans and young Borlotti beans have been left to dry or have been picked young and then sliced, blanched and frozen; beetroot has been boiled, peeled, sliced and pickled; raspberries have been turned into jam; Greek oregano has been hung up to dry. Every time we go up to the garden, we bring a bit more home and either eat it right away or it gets preserved and stored.
Next on the list are more Bramleyís Seedling apples. Weíve been picking them up as they blow down, so they are often bruised and donít keep. That means I have to do something with them quickly, so Iíve been peeling them, cooking them down and putting them into jars for pie fillings. Iím sick of peeling apples, itís been going on for weeks, but the supply over the winter will be very welcome.
The tomatoes have been easier, though Iíll be glad to get them finished as well. Only one more big bowlful is waiting to ripen! Iíve been making Passata with them, which is so easy; just cut them in half, simmer till soft, put them through the Passata mill a few times and you get a lovely smooth paste. All you then need to do is reheat it, pour into hot jars and seal.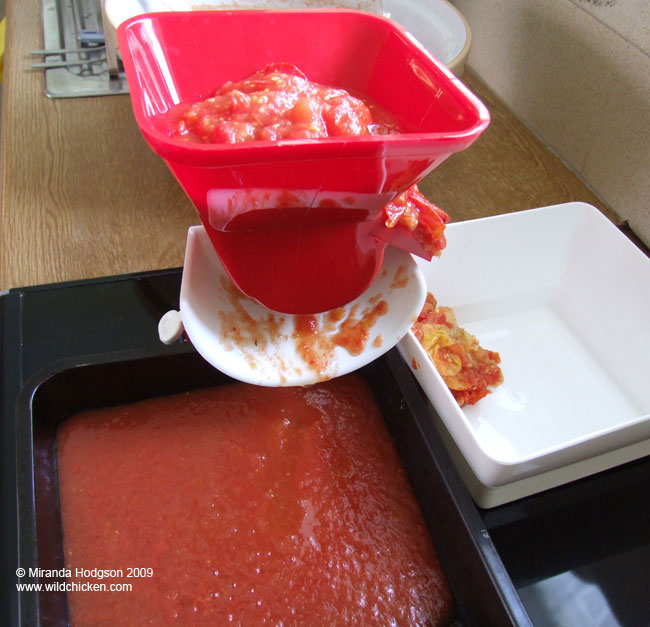 Also on the boil, literally, is chilli sauce. Iíve never made chilli sauce before this year and have been experimenting with a smooth Tabasco type sauce and a thicker one that is more of a sambal. Theyíre both pretty good, but I need to play with the recipes for a while before saying more about it.
© Copyright Miranda Hodgson 2009
next journal entry: Crown Prince Squash and some Marrows
previous journal entry: The Dreaded Potato and Tomato Blight
Kitchen Garden - journal index