The Dreaded Potato & Tomato Blight
August 2009 - The Kitchen Garden Journal - Miranda Hodgson
next journal entry: Preserving the Harvest
previous journal entry: More courgettes and other Vegetables
Kitchen Garden - journal index
August 2009 - The dreaded potato & tomato blight
So much can change in two weeks. On July the 26th, we were optimistic of the best tomato harvest we would ever have had. By August the 9th we realised we can forget it, the outside tomatoes have got blight.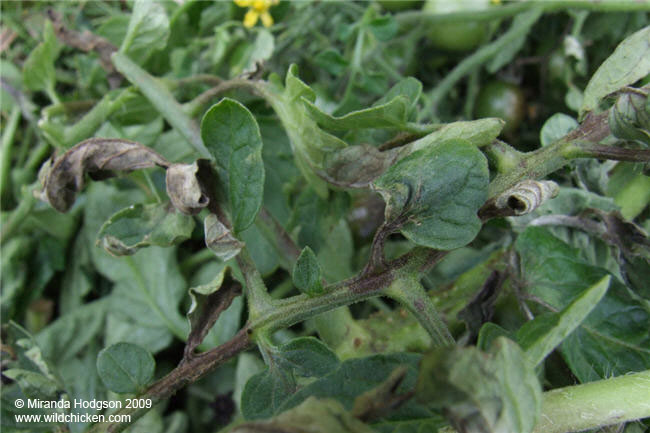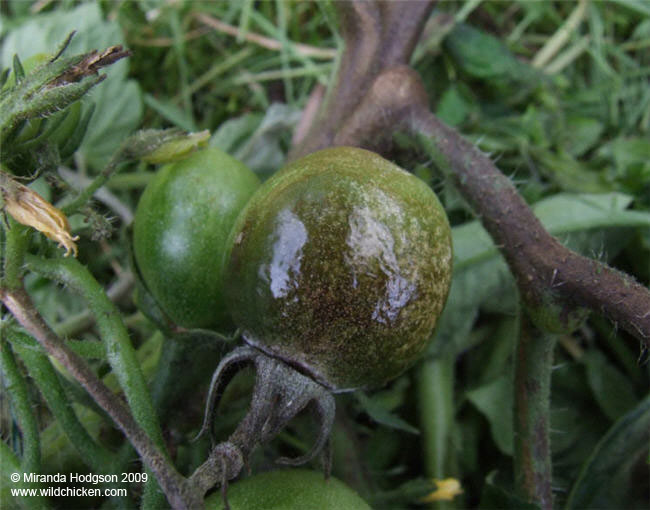 It was so fast. The first signs were the dark blotches on the leaves and stems, which spread in a matter of days to cover almost all the plants. They wilted, collapsed and died and the lovely looking fruit was starting to turn brown. As soon as we saw it, we sprayed with a copper fungicide. Some of the fruit was still okay, but it was already too late for the plants. We picked all the remaining healthy tomatoes, still green, and I made several jars of tomato chutney from an old Women's Institute recipe that I found.
Just in case, we cut all the foliage from the potatoes. Not sure if this was a good or a bad idea, as there is the possibility of the blight entering the plant through the cut stems.
Not all is lost, however. The greenhouse plants, both at the garden and at home are still okay and the outside tomatoes in the courtyard are producing well. Whilst we have lost around half of what we started with, there are still tomatoes to be had. I'm glad that we grew them in a few different places – if we'd planted them all in one spot, we'd have lost the lot. Talk about not putting all your eggs in one basket! It was certainly true in this case.
As it is, we still have around 25 healthy plants. Ten of them are lined up against the west-facing stone wall of the house. It's very sheltered here and the walls gather up all the warmth of the afternoon sun and bounce it back. I've noticed that the tomatoes in this spot are looking especially good, with large fruits that are ripening quickly. Several others are standing in front of the south-facing shed. This bit doesn't get quite as much direct sunlight, but the shed is painted very dark brown, so they do get plenty of warmth. The others are in the greenhouse, where they are cramped up with some of the sweet pepper and chilli plants.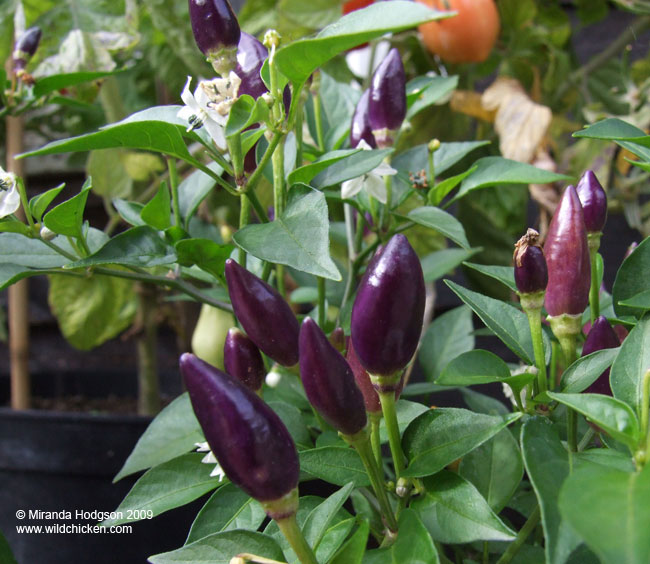 © Copyright Miranda Hodgson 2009
next journal entry: Preserving the Harvest
previous journal entry: More courgettes and other Vegetables
Kitchen Garden - journal index