Linum grandiflorum
Garden Plant Information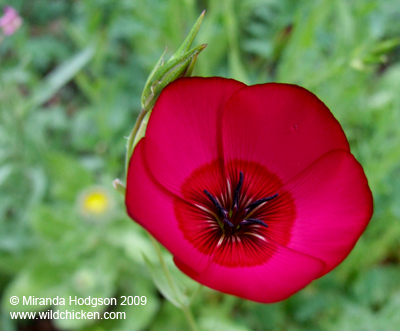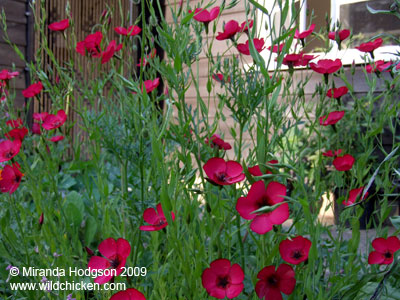 Name
Linum grandiflorum (also called Red Flax and Scarlet Flax and Flowering Flax)
Genus
Linum
Species
grandiflorum
Cultivar/variety
General description
Hardy herbaceous annual grown for its many scarlet flowers that bloom from early summer until the first frost. Very effective en masse and planted amongst perennials. Up close, the flowers have a striking velvety sheen - grow Linum grandiflorum where you can see the sunlight shining through the petals and you will be rewarded with a beautiful sight. Self sows without becoming invasive. Drought tolerant.
Attractive to insects and to birds, who will eat the oil-rich seeds.
Season of interest
Reddish-pink flowers from early summer until the first frosts.
Key horticultural features
Habit - upright, branching. H: 50cm S: 10cm.

Stem - slender, straight, smooth, round, mid-green.

Leaves - mid-green, lanceolate, alternate, no petioles.

Flowers - saucer-shaped, 3cm across, five petals. The outer rim is dark red, shading to dark red-pink, with a central circle of red at the base of the flower showing darker red lines, which act as a pollen guide for insects. The stamens are dark purple.
Cultural details
Aspect
Full sun is preferred. South or west facing.
Soil
Well drained loam or sand.
Hardiness
Hardy.
Maintenance
Generally disease free. Water in very dry weather.
Propagation
Sow seed into prepared soil after the last frost and cover them lightly to prevent them being eaten by birds or mice. Will self sow.