Onion and Garlic Harvest and some Scary Courgettes
June 2009 - The Kitchen Garden Journal - Miranda Hodgson
next journal entry: More courgettes and other Vegetables
previous journal entry: Brassica Cages
Kitchen Garden - journal index
June 2009 - Onion and garlic harvest and some scary courgettes
The garden and the area around it remind me more and more of a Constable painting. It started in April when the willow trees suddenly burst into leaf. Then during April and into May, the meadow next to the garden rapidly awoke from its long sleep and sprang into life; what had been low scrubby grass fast became a mass of feathery cow parsley over a metre high. Stand at the north end of it and look southward at lunchtime and your gaze is met by a stunning and luminous beauty with the sun shining through all those thousands upon thousands of tiny white flowers. The newly laid hedgerow has leafed up, the new green growth tinged with pink.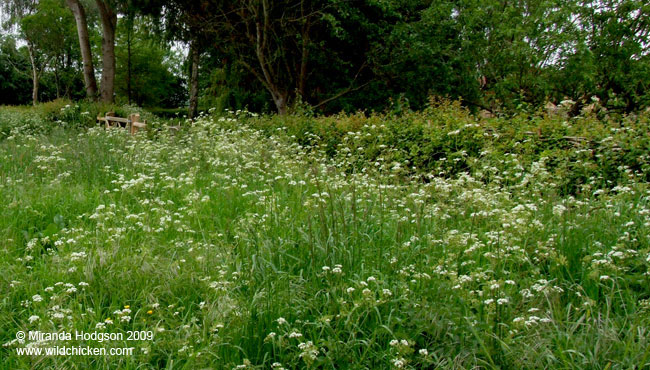 The weather has been very hot and itís time to harvest the onions and garlic that we planted late last year. The garlic has been affected by blight and is not looking very pretty but it looks like we should still get a reasonable haul, though the foliage will have to be cut off and burned to stop the spores from spreading. The onion foliage was also looking spotty so we decided to have that out as well, even though itís still green. In this weather, the foliage will dry out soon enough.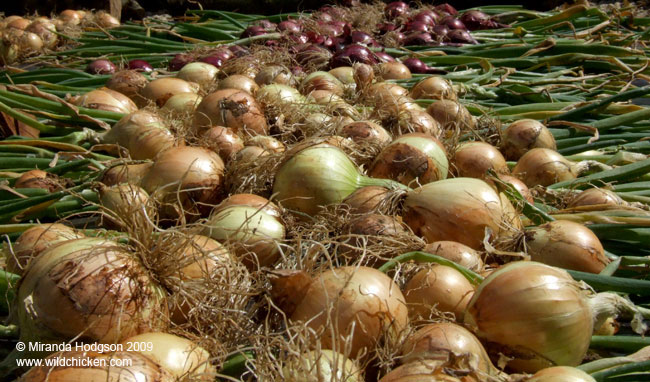 We took a bed each and starting digging up the garlic. The roots hold on tenaciously and some careful work with the fork is required. Then, the long business of cutting off the foliage and snipping the roots and dropping the garlic head into a box.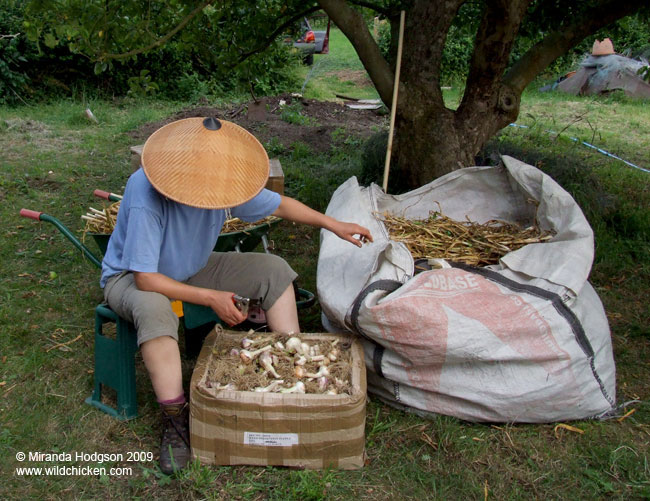 The day got hotter and hotter and I was glad that Iíd gone along with the impulse to pick up the Indonesian labourerís hat on the way out because it made a huge difference. After about half an hour of wearing it, I thought about the old pith helmets that soldiers used to wear and how they soaked them before wearing them so that the evaporating water helped to keep them cool. I decided to try that with my hat - filled it with water, let it drain and put it back on. It was a bit drippy but, lo and behold, it worked a treat. Giving the hat a good wetting also got rid of the slightly musty smell it had picked up from sitting on a shelf for the last 12 years.
Harvesting took pretty much all day and we went home with a reeking car full of onions and garlic. At home, we spread them out to dry off in the courtyard.
The courgettes are romping away. How can they grow so fast?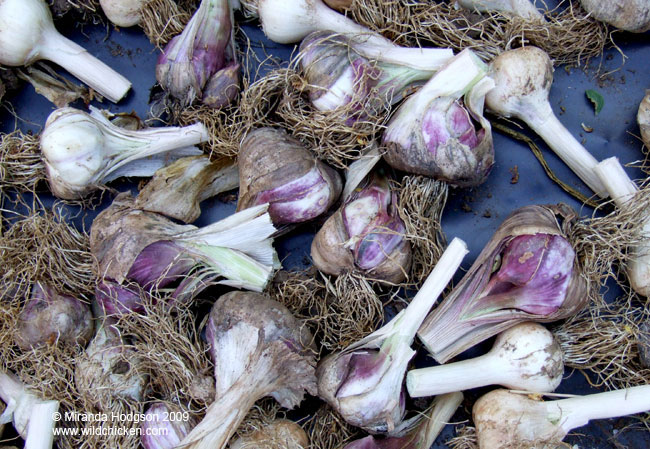 © Copyright Miranda Hodgson 2009
next journal entry: More courgettes and other Vegetables
previous journal entry: Brassica Cages
Kitchen Garden - journal index