More Courgettes and other Vegetables
July 2009 - The Kitchen Garden Journal - Miranda Hodgson
next journal entry: The Dreaded Potato and Tomato Blight
previous journal entry: Onion and Garlic Harvest and some Scary Courgettes
Kitchen Garden - journal index
July 2009 - More courgettes and other vegetables
Those sweet little courgette plants that I planted in May have turned into monsters and I swear they are bigger every day. The leaves on each plant are now a good metre across and the plants are nearly as high as my hips. They're producing courgettes like there's no tomorrow and we've had to put up a netting fence around the bed as the deer have been coming in and biting the ends off the fruits.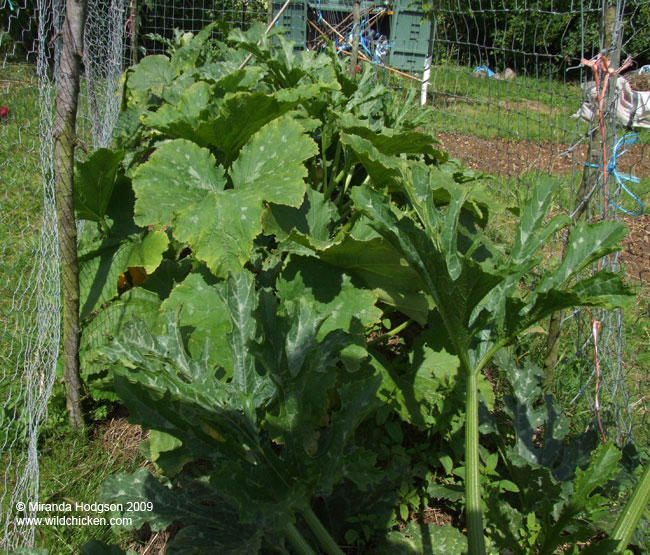 It's a challenge trying to find new ways of using them all. So far, I've dried them; put them with tomato sauce; with tomatoes, bacon and broad beans; in Thai and Indian curries; I used Madhur Jaffrey's recipe for courgette koftas; they've been pickled in vinegar and, finally, I made some Kimchi. I think a few pages of recipes would be a good idea.
Of the two varieties we've grown, Genovese and Romanesco, we like the Romanesco the best. Genovese is smooth skinned whilst Romanesco is ridged and I think it has a better flavour. Both types keep very good texture in cooking and cook up very differently to shop bought courgettes – the shop bought ones tend to turn mushy, whilst ours cook soft in the middle and retain just the right amount of crispness to the edges.
Elsewhere in the garden, the potatoes are coming along nicely and we've laid a thick mulch of straw around them. This serves to keep moisture in, deter weed growth and keep the light out so that we won't need to earth up.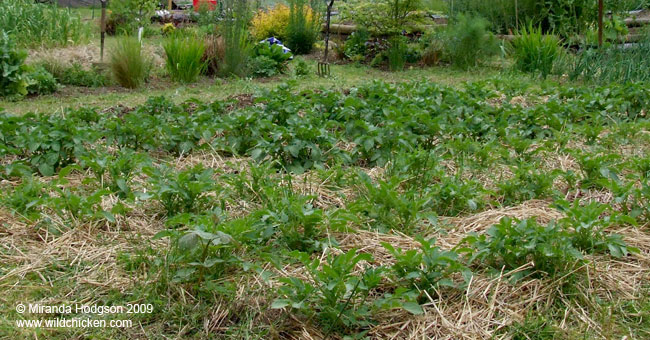 The shallots we planted out in March are growing thickly and it looks like each bulb has split out in to a clump of at least nine. Shallots are one of my very favourite things to grow for that reason. They bulk up as if by magic and once dry, the outer skins rustle off so easily to leave a beautiful, shiny, golden bulb.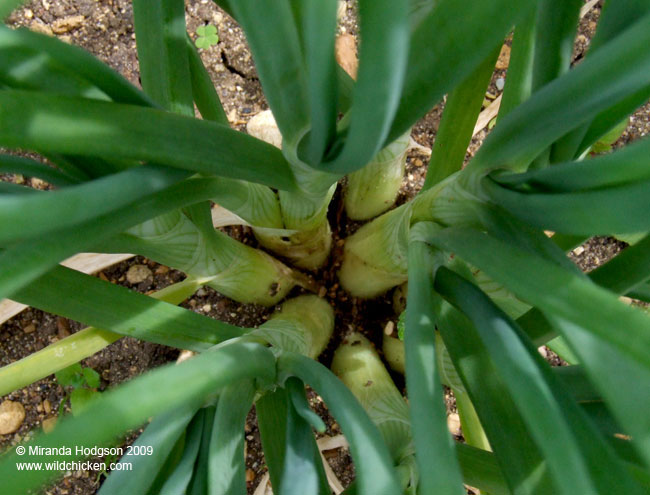 Just realised that somehow the labels got mixed up on the beans. Some that I had planted out as bush beans are in fact climbing beans and they're already wrapping themselves around the low hoop of netting that I'd put over them! I can't even blame mice for moving the beans about, as the plants had already started when the labels got swapped over, so it must have been me. Annoying, but we can still put bamboo canes in for them to climb up and at least they are growing away strongly.
The broad beans are growing strongly too. We're growing Martock again as they have done us well for six years now. Also coming on nicely are the carrots and parsnips.
The tomatoes that we planted out amongst the Oca are looking amazing. The stems are really thick and there are masses of fruit.
© Copyright Miranda Hodgson 2009
next journal entry: The Dreaded Potato and Tomato Blight
previous journal entry: Onion and Garlic Harvest and some Scary Courgettes
Kitchen Garden - journal index