Distorted chillies, fungi and an impending Oca harvest
September 2009 - The Kitchen Garden Journal - Miranda Hodgson
next journal entry: After the Storm
previous journal entry: The courtyard kitchen garden
Kitchen Garden - journal index
29th October 2009 - Distorted chillies, the impending Oca harvest, celeriac and fungi
We've got some weird looking chillies. They have small side lobes growing from the base of the fruit which reminds me of those balloon animals that you see at childrens' parties. What's going on?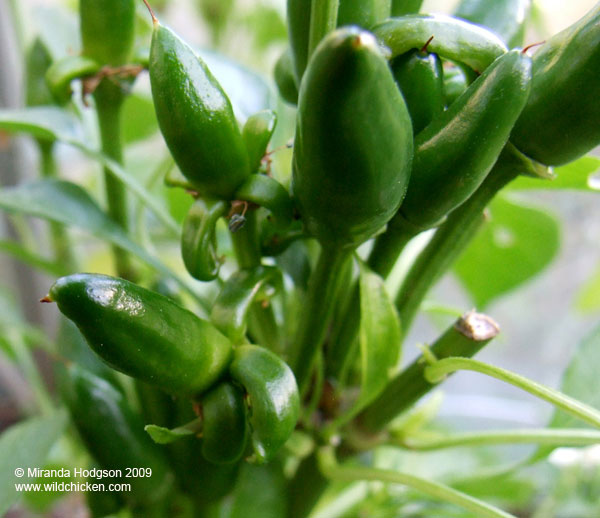 I have seen this before, actually, and have wondered what caused it, but never got round to finding out. After some research, it would appear to be caused by low temperatures when the fruit is first forming. How this works, I have no idea, but it is said to be more common in temperate areas. It's not an issue and I'm not going to do anything about it, but it's satisfying to have found out what causes it.
The book I found the information in, Hydroponic Capsicum Production, by Dr Lynette Morgan and Simon Lennard, irritated me by suggesting that side lobes make peppers unfit to market. The day will soon come, I hope, when such attitudes are replaced by those that value flavour over looks. This is happening, slowly, and the supermarkets are finally getting the inkling that however perfect and beautiful a pepper might look, it does need to taste of something as well. And don't give me any of that nonsense about 'customer demand' either. How many people have you met who insist on perfectly formed fruit and vegetables? Name three.
Anyway.
We are keeping a close eye on the Oca (Oxalis tuberosa) which will soon be ready to harvest. Last year it was in containers, but this year we've tried growing it in different situations to see how it gets on - in pots, in a raised bed, in open soil and sharing the mucked and mulched bed that the courgettes were planted in. So far, the most vigorous looking plants are in the raised bed which had been filled with gritty pond silt and had blood, fish and bone meal mixed in. The others look good, but not as good as those in the raised bed. As expected, it grew to about 1m tall and then the foliage flopped over. Since the same happened to the Oca at the Oxford Botanic Garden, I'm not worried about it.
I poked around in the soil under one plant a couple of weeks ago and can see that the roots are starting to swell into the familiar Oca tuber shape, which doesn't begin until the autumn equinox when day and night are of equal length. If the autumn continues to be mild and there are no hard frosts for the next month or so, we hope to get a good harvest. Last year was the first time we grew them and since we saved all the tubers for replanting, this is the first time that there will be enough to eat. I remember the one sampling allowed ourselves last year and look forward to trying them again.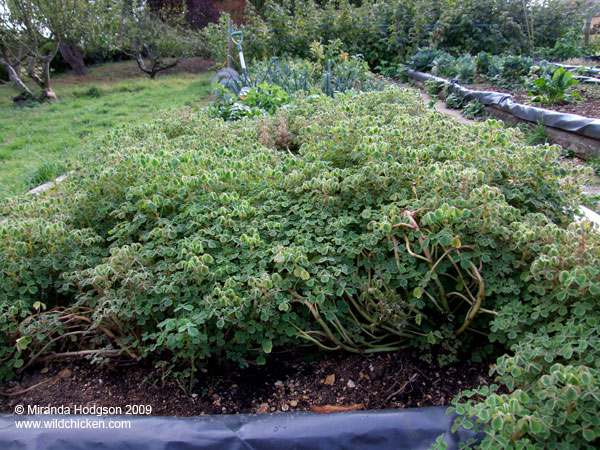 Another new pleasure is growing in the form of celeriac, which we are growing for the first time this year. This is a big, knobbly, ugly root vegetable and it sometimes looks like an elephant's foot, but it is absolutely delicious (supermarkets take note). Pare away the rough skin and knobbles and the celeriac is revealed in all its smooth and silky glory. It is also called 'root celery' and whilst it does have a subtle flavour of celery, which I'm not that keen on, it is much, much nicer, with a hint of sweet nuttiness to it.
To grow it needs little attention and as long as the ground is reasonably fertile, kept weeded and doesn't dry out the plants get on with it. You're also supposed to remove some of the stems to help the roots to swell and the one in the picture needs de-stemming again.
Cooked and mashed with potatoes, roasted, used in soup, added to coleslaw or made into the classic French remoulade, where it is simply grated and mixed with mayonnaise, it is a tasty, nutritious and divine comfort food.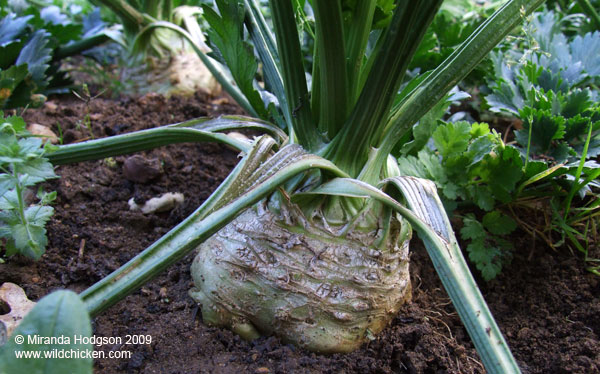 Mrs Mawle pointed out something interesting to me the other day and not for the first time, either, as we often point things out to one another and share a fascination with all things living. By the edge of the path around the pond was the remains of a clump of sulphur tuft mushrooms (Hypholoma fasiculare) and it looked very much as if the domed caps had been bitten off.
Sulphur tuft mushrooms are poisonous, so what had eaten them and was it still alive? Research revealed that they are poisonous to humans, but not to all mammals and they will be eaten by deer and rabbits. Looking at the way the caps were nipped off, and the fresh droppings scattered nearby, I'd say it was deer, probably one of the muntjac we've been seeing. It would be preferable if they stuck to eating fungi and kept away from the garden, but they won't.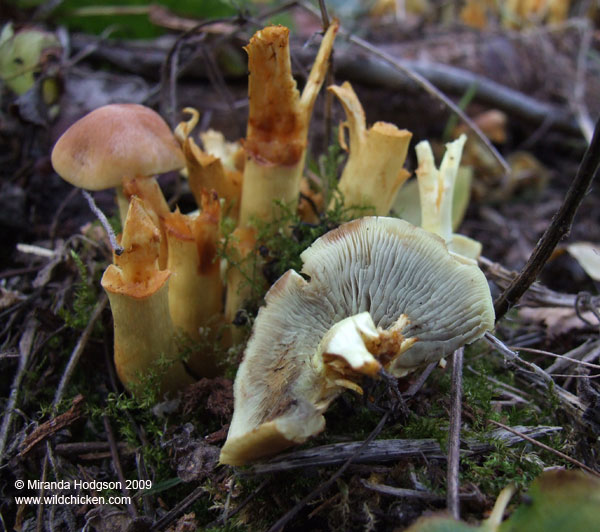 © Copyright Miranda Hodgson 2009
next journal entry: After the Storm
previous journal entry: The courtyard kitchen garden
Kitchen Garden - journal index