After the Storm
September 2009 - The Kitchen Garden Journal - Miranda Hodgson
next journal entry: Time to get going
previous journal entry: Distorted chillies, the impending Oca harvest, celeriac and fungi
Kitchen Garden - journal index
16th November 2009 - After the Storm
It has occurred to us that the garden is not the ideal spot for greenhouses. After the storm that blew across the area during Friday and Saturday, we went to check on the garden on Sunday and found the remaining plastic greenhouse on its side in the hedge. Itís surprising because Karl had hammered in chunky wooden stakes all around it to keep it in place and they had been snapped in half Ė must have been some pretty big gusts. It isnít that the garden is without shelter, or especially high up, but this area is certainly higher than much of the land around it and when the wind blows it rips through with surprising force.
Luckily, the courtyard garden is sunny, sheltered and has enough space for another greenhouse, so any plants that need to be under cover can be grown there instead. Weíll gather the remains of the old greenhouses and cobble together a new one.
Those pesky muntjac have been in again. This time they went for the new cabbages that were sprouting out of the stumps of the original cabbages, which had been looking so good. I was annoyed to find that they had been chewed, but I suppose we should have netted them.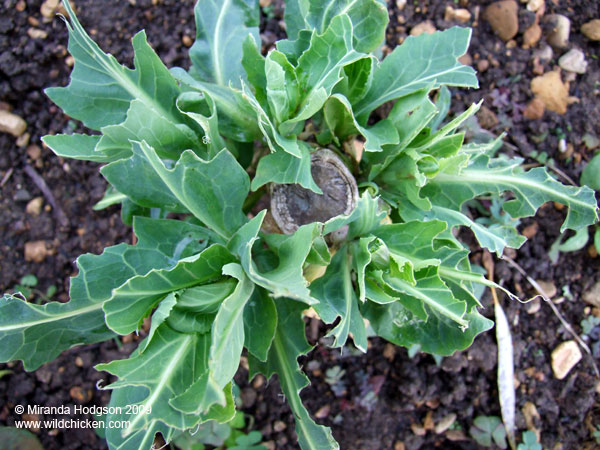 I do hope the muntjac arenít going to be too much of a problem over the winter. Netting all the beds will protect the plants, but it does make weeding and harvesting awkward and it doesnít look very nice either. At least they donít seem to be tempted by the Oca, so far, which is coming along very well indeed. Iíve been poking into the soil at the base of the plants and can see that the shiny tubers are a little bigger each time. It is so tempting to dig a plant up before they are fully grown. We must resist.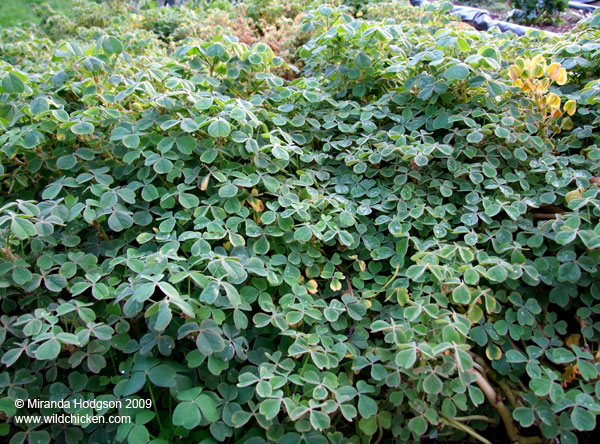 With the muntjac in mind, as well as the local mouse and crow population, I picked the rest of the Borlotti beans and brought them home to dry. They are nice fat, mottled, beans and very handsome. Some will be saved for planting next year and the rest I shall keep for cooking; theyíll be good in soups and stews. Iím also saving some of the Flageolet ĎKoalaí beans for drying. These beans are small and smooth and are the most beautiful pale green colour.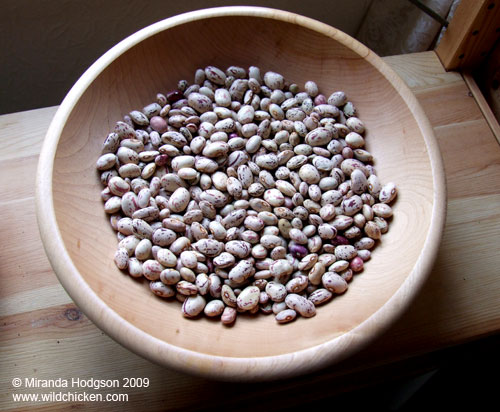 Clearing out the stems and foliage where the squashes were growing, I noticed that the worm population has increased and there are now a lot more of them than at this time last year. This should mean that my plan of last autumn, to increase both the population of worms and micro-organisms, is working. That was where the beds were dug, mucked covered with a thick layer of straw and then left over the winter. We have a good supply of chicken manure at the moment, so it will be dug into some of the beds that we didnít muck last year and Iíll cover them and leave them as I did with the others.
Last month, I mentioned that we had seen a lot of honey bees on the courtyard flowers but that I didnít know where they were coming from. A few days later I found out. Next to where we live is a very attractive complex of retirement flats, some of which are in a big old house. It seems that honey bees had made a nest in one of the chimneys so Iím guessing that this is where our visitors were coming from. The nest has now been removed by the local council and a beekeeping association.
I told my friend, John Davison, about it and he had this to say: 'A few years ago a man saw a stain on his bedroom ceiling and upon investigation found a beehive with honeycomb twenty feet long, donkey's years old; he was selling the honey around the villages for monthsí. I havenít asked and have wondered if any honey was recovered from the chimney here.
There are a lot of leaves on the ground at the moment and this one caught my eye. The last rays of the afternoon sun were catching its rough surface, creating a slightly unreal look.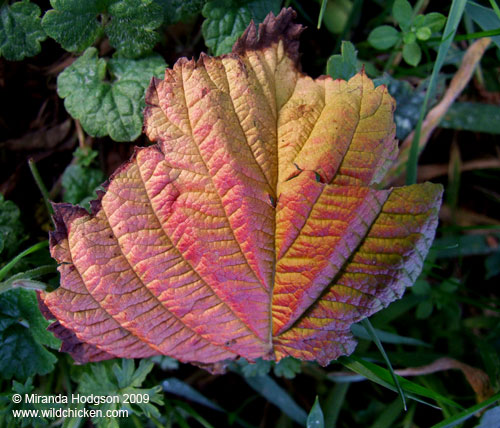 © Copyright Miranda Hodgson 2009
next journal entry: Time to get going
previous journal entry: Distorted chillies, the impending Oca harvest, celeriac and fungi
Kitchen Garden - journal index