Time to get going in the garden
March 2010 - The Kitchen Garden Journal - Miranda Hodgson
next journal entry: RHS garden wildlife blogs
previous journal entry: After the Storm
Kitchen Garden - journal index
17th March 2010 - Time to get going in the garden
Is winter truly over? Please, let it be. It feels as if itís gone on forever, with week after week of penetrating cold and the ground too hard to work. Still, however much we may have disliked it for ourselves, the long winter has been of benefit to the garden. The longs weeks of freezing have given our clay soil a much better consistency, breaking it up into a more crumbly texture that can be worked more easily. Mixing in some more organic matter will add to the effect. As luck would have it, there is a donkey sanctuary very near to the garden, which is happy to let us have the donkey manure. It wonít be ready to add to the soil for a couple of years, but we have a steady supply of chicken manure mixed with straw and some of that is now over two years old and can be dug in.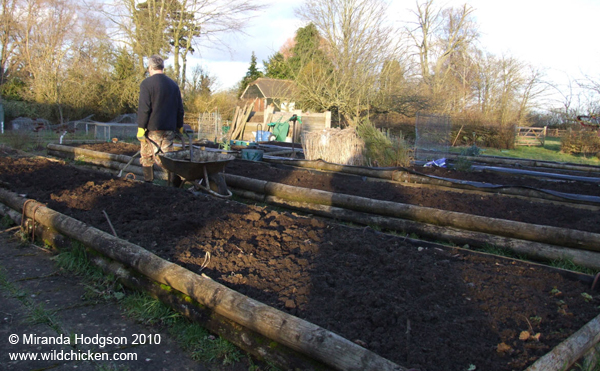 Another advantage of this winter is itís been too cold for the weeds to grow, so weíre not starting the year with a weeding session, but by digging over winter-improved soil. It is also possible that the cold will have slowed the slugs down. Maybe even the muntjac numbers will have been reduced, or at least thereís the chance that they might not have as many young this spring. That would be good.
Looking at the garden in February, it was evident that the muntjacs had come looking for food - and who can blame them - but we have got to the point of Ďthem or usí so weíre getting together with Mrs Mawle to put up some more fencing and hope that this will protect our crops.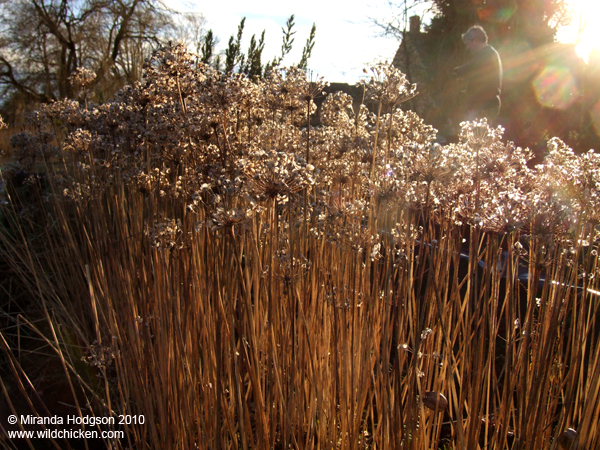 Because of the continuing chilliness, Iíve held off sowing until the weather warmed, but now is the time to start off broad beans, leeks, carrots and parsnips. The potatoes are still chitting but by the time they are ready to go in, the soil will have warmed to receive them comfortably. This year Iíve decided to follow the advice that Guy Barter, of the RHS, is writing on his blog. Iíve followed his ornamental gardening recommendations for some time now and, along with many others, am pleased that he is sharing his knowledge of vegetable growing.
I am anxious to see how my lovely Exochorda giraldii var. wilsonii fares this spring, as quite a bit of bark has been stripped off the main stems. I suspect this was caused by little muntjac horns as they browsed around the base of the plant.
The dwarf, columnar Euonymus fortunei (lost the ticket for this one) clearly made another snack and has been nibbled to almost nothing. I shall dig it up and bring it back to the courtyard, where it can recover in peace. The hard prune itís had probably wonít do it much harm and, in any case, when we were in Lincolnshire, the older foliage became covered in some black sooty stuff, which may have blown in from the local steelworks as there were no pests on the plant, and thatís gone now.
© Copyright Miranda Hodgson 2010
next journal entry: RHS garden wildlife blogs
previous journal entry: After the Storm
Kitchen Garden - journal index