Growing potatoes for Christmas dinner
- how to have fresh home-grown potatoes on Christmas Day
- by Sue Ryan
See also: Growing potatoes in containers
Would you like to have freshly harvested new potatoes with your Christmas dinner?  Follow this easy guide to growing them in containers at home.
Some seed companies sell varieties for this purpose, but it comes at a price and that price is around two or three times as much as the cost of seed potatoes that are available early on in the year.
When I put my first earlies out to chit (grow the sprouts that will turn into the main plant), I hold a few back. I wrap them individually in newspaper, then wrap them all up together with another sheet of newspaper and put them in the fridge where they keep very well.
At around the end of August, I take them out of the fridge and they have only just started to sprout. I plant them into the buckets in exactly the same way as I did earlier in the year. They will grow strongly but they will need protecting from frost. When our first frost is forecast, I move the buckets into the greenhouse (heated at 10 degrees Centigrade or 50 degrees Fahrenheit) but if you don't have a greenhouse, they should be ok if they are placed beside a house wall and covered with fleece to keep the cold out.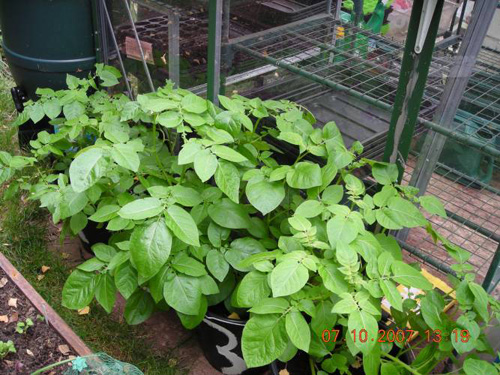 The above picture shows the strong growth before the buckets went into the greenhouse. I have also found when placing them in the greenhouse that they do not like being in the direct line of the air blowing out of the electric heater, as it dries the plants out and they wilt.
The potatoes will be ready for harvesting in time for Christmas - it will be a good excuse to 'get my hands dirty' on Christmas morning.
See also: Growing potatoes in containers
 © Copyright Sue Ryan  2008
Garden Plant Information - Alphabetical list
Wildlife gardening for children
Professional Gardening Service