Aeonium arboreum
Garden Plant Information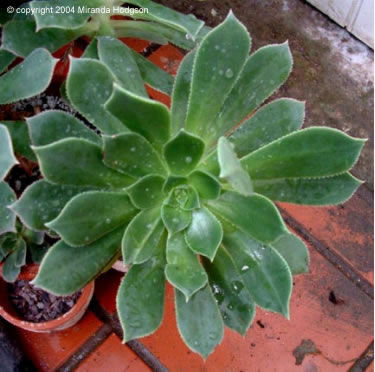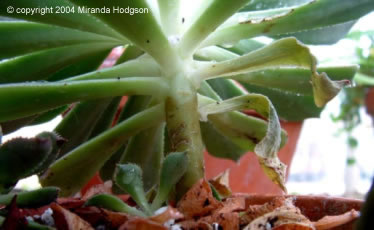 Name
Aeonium arboreum
Genus  
Aeonium
Species
arboreum
Cultivar/variety
~
General description
Tender succulent. Rosettes of leaves borne on branching, fleshy, green stems. Up to 1m high. Originates in Mediterranean North Africa.
Season of interest
All year round
Key horticultural features
Upright habit.

Leaf acicular with pointed end. Jade green, with edges paler and lightly toothed.

Stems branching, round, pale jade green, straight or lightly curved, mainly smooth with small leaf scars.

Yellow, star-shaped flowers appear on larger plants, borne in conical clusters at the end of one or more stems. Leaf rosettes die back after flowers are finished.
Cultural details
Aspect
Full sun to partial shade.
Soil
Well drained gritty compost.
Hardiness
Tolerates temperature down to 5c. Winter temp should be around 12c.
Maintenance
Repot when pot bound, moving to a slightly larger pot. Reduced watering when dormant. Feed two or three times with a balanced fertiliser during the growing season.
Propagation
The plant is very easy to propagate from cuttings. Cut off a rosette and let it harden off for three days. Then the cutting can be planted directly into a well-drained mix to root.