Camassia leichtlinii
Garden Plant Information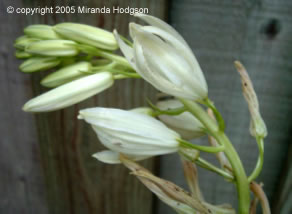 Name
Camassia leichtlinii subsp. leichtlinii
Genus  
Camassia
Species
leichtlinii
Cultivar/variety
subsp. leichtlinii
General description
Summer flowering bulb, grown for creamy white flowers. Suitable for borders and pond margins.
Season of interest
Summer flowers.
Key horticultural features
 Habit – upright. H: 60cm+, S: 10cm.

Leaves – lax, mid-green, strap-like, grow from base of plant. Leaves die back soon after flowering.

Stems – straight, mid-green, round.

Flowers – creamy-white, six-petalled, star-like flowers borne on an erect stem.
Cultural details
Aspect
Full sun, partial shade.
Soil
Deep, moist soil.
Hardiness
Hardy
Maintenance
Remove spent blooms after flowering if seed in not required.
Propagation
By seed in autumn or by division in late summer.