Cornus kousa
'Gold Star'

Garden Plant Information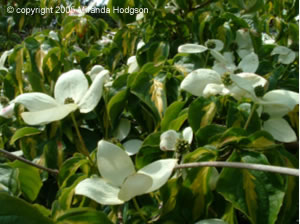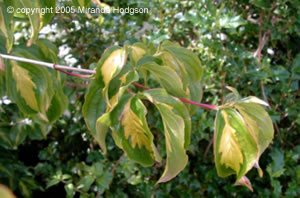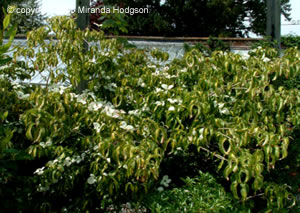 Name
Cornus kousa 'Gold Star' (also called flowering dogwood)
Genus  
Cornus
Species
kousa
Cultivar/variety
'Gold Star'
General description
Broad leaved deciduous shrub producing white bracts in early summer. Acid tolerant.
Season of interest
White bracts in summer, variegated foliage, hot summers produce fruits.
Key horticultural features
Habit – spreading, vase shaped. H: up to 7m, S: up to 5m.

Leaves – leaves have a distinctive droop. Oval, glossy, dark green leaves with a central splash of yellow; the centre turns red, and the edge purple, in the autumn

Stems – older growth is brown, young growth is pink.

Flowers – creamy-white bracts with some splotchy pink markings. May be followed by red strawberry like fruits in a warm year.
Cultural details
Aspect
Sun or semi shade.
Soil
Dislike shallow, chalky soil and do better in an acid soil.
Hardiness
Fully hardy.
Maintenance
Prune to keep size and cut out any dead wood in autumn.
Propagation
By seed in autumn or softwood cuttings in summer.