Cotoneaster x suecicus
'Coral Beauty'

Garden Plant Information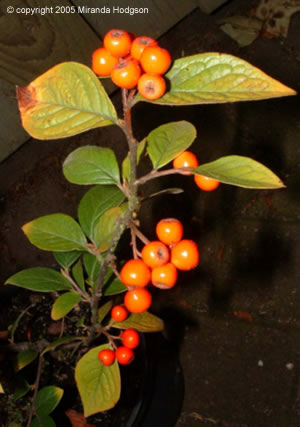 Name
Cotoneaster x suecicus 'Coral Beauty'
Genus  
Cotoneaster
Species
Cultivar/variety
'Coral Beauty'
General description
Evergreen, low, spreading ground cover shrub with berries in autumn. Can be wall trained. 50cm x 1.8m. The flowers attract bees and the berries attract birds.
Season of interest
Flowers in spring, berries in autumn
Key horticultural features
Glossy, green, smooth-edged leaves, ovate-elliptic-shaped and up to 3cm long

Round stem, older growth brown and woody, new growth reddish-brown and shiny.

Abundant creamy-white flowers held in clusters.

Shiny, red-orange spherical berries in clusters, held on reddish-brown stems.
Cultural details
Aspect
Sun or part shade
Soil
Moist and well drained though copes well with drought once established.
Hardiness
Hardy
Maintenance
Remove dead shoots and twigs, cut back overgrown shrubs in late winter.
Propagation
Sow seed, or take cuttings from current year's growth, in autumn.