Deutzia
'Rosea Plena'

Garden Plant Information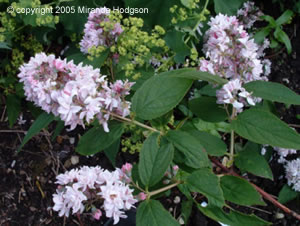 Name
Deutzia 'Rosea Plena'
Genus  
Deutzia
Species
Cultivar/variety
'Rosea Plena' also known as 'Pink Pompon'
General description
Vigorous medium size deciduous shrub with double pink flowers.
Season of interest
Clusters of pink flowers in June.
Key horticultural features
Low growing with upright, arching branches. H: 1.5m  S: 1.5m.

Leaves – pointed oval, mid-green, serrated edge.

Flowers - dense, rounded clusters of double pink flowers borne in June before fading to white.
Cultural details
Aspect
Sun or light shade.
Soil
Any well drained, fertile soil. Tolerates alkaline soil.
Hardiness
Hardy.
Maintenance
Prune after flowering and cut out old unproductive wood.
Propagation
Take cuttings in autumn or sow seed in February.