Griselinia littoralis '
Variegata'

Garden Plant Information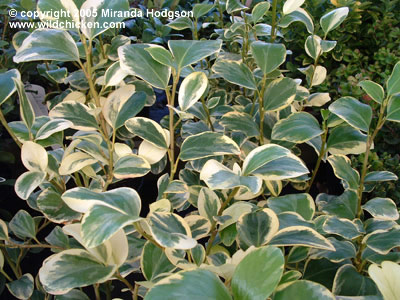 Name
Griselinia littoralis 'Variegata' (also called New Zealand broadleaf)
Genus  
Griselinia
Species
littoralis
Cultivar/variety
'Variegata'
General description
Variegated evergreen shrub, grown for foliage.  Useful for hedging in coastal areas as it is tolerant of salt spray and wind. H: 6m. S: 5m
Season of interest
All year round
Key horticultural features
Upright, dense habit.

Leaves ovate, smooth edged. Slightly waxy and shiny. Green with irregular cream edging. Yellow petiole.

Stems round, smooth and green/yellow.

Tiny, inconspicuous, yellow-green flowers.
Cultural details
Aspect
Good for hedging, and withstands salt air so good as a coastal plant, but will not thrive as well in frosty areas. In sun or partial shade.
Soil
All well drained, fertile soils.
Hardiness
Slightly frost tender. Grows well in a coastal climate away from frost pockets.
Maintenance
May be trimmed to a semi-formal hedge. Fast growing, prune hedges in early summer.
Propagation
Semi-ripe cuttings in summer.