Abelia
x

grandiflora
Garden Plant Information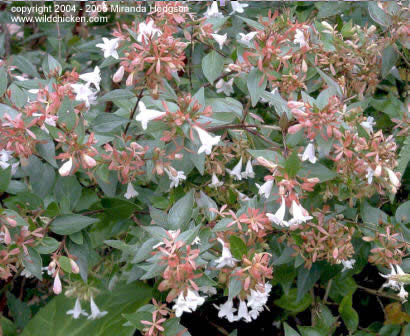 Name
Abelia x grandiflora
Genus  
Abelia
Species
x grandiflora
Cultivar/variety
General description
Vigorous, semi-evergreen, arching shrub grown for long lasting display of small, pale, fragrant flowers.
Season of interest
Mid summer to mid-autumn.
Key horticultural features
Mounded, arching habit. H: 2m, S: 2m.

Leaves simple, opposite, glossy green, slightly serrate.

Young stems reddish brown, older stem growth peels to reveal inner bark.

Flowers pinkish-white, bell-shaped, fragrant.
Cultural details
Aspect
Sheltered, sunny.
Soil
Fertile,  well drained.
Hardiness
Said to be borderline hardy so plant in a sheltered spot.
Maintenance
Remove dead wood in spring; if growth needs restricting, cut out older branches after flowering. Generally pest and disease free.
Propagation
Softwood cuttings in summer.