Arbutus unedo
Garden Plant Information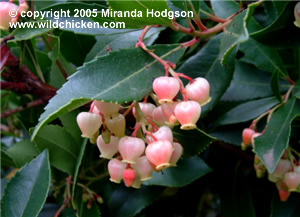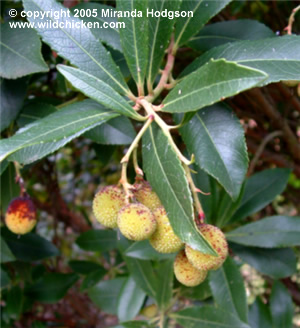 Name
Arbutus unedo (also known as Strawberry Tree)
Genus  
Arbutus
Species
unedo
Cultivar/variety
General description
Spreading evergreen shrub grown for clusters of pink flowers and unusual strawberry-like fruits. Tolerates coastal exposure and atmospheric pollution. Attractive to bees.
Season of interest
Flowers in late autumn followed by strawberry-like fruits.
Key horticultural features
Spreading upright shrub. H&S up to 8m.

Leaves – simple, lanceolate, glossy, dark green, serrated.

Flowers produced in clusters on red stems. Flowers are shaped a bit like hot-air balloons, and are pink tinged with white.

Fruits – strawberry-like but inedible, starting pale green and ripening to red.
Cultural details
Aspect
Full sun.
Soil
Fertile and well drained. Can tolerate alkaline soil.
Hardiness
Hardy.
Maintenance
Resents disturbance so plant into final position whilst young. Remove damaged or crossing limbs in late autumn or winter. Can be affected by aphids and black spot.
Propagation
Sow seed under glass or take cuttings in summer.