Astrantia major
'Hadspen Blood'

Garden Plant Information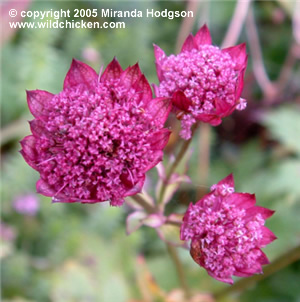 Name
Astrantia major 'Hadspen Blood' (also called Masterwort)
Genus  
Astrantia
Species
major
Cultivar/variety
'Hadspen Blood'
General description
Upright hardy perennial with pink flowers and lobed leaves. Can be dried for flower arranging or cut for fresh flowers. Attractive to beetles and insects.
Season of interest
Flowers in summer.
Key horticultural features
Upright, branching habit. H: 50cm, S: 30cm.

Stem is slender, round pale green tinged with pinky-red.

Leaves – mid green, deeply lobed.

Flowers – a shallow cup of pointed bracts holds a cluster of tiny pink 5-petalled flowers.
Cultural details
Aspect
Full sun to partial shade.
Soil
Moist, humus rich.
Hardiness
Hardy.
Maintenance
Lift and divide clumps in spring; divided clumps may take a while to settle as they resent disturbance. Generally pest free, but may be affected by downy mildew in dry weather, so keep well watered in dry spells.
Propagation
Sow seed as soon as it is ripe as it needs a chilling period (stratification) to germinate. Can be divided in spring but dislikes disturbance. Will also self seed.