Elaeagnus
x

ebbingei

'Limelight'


Garden Plant Information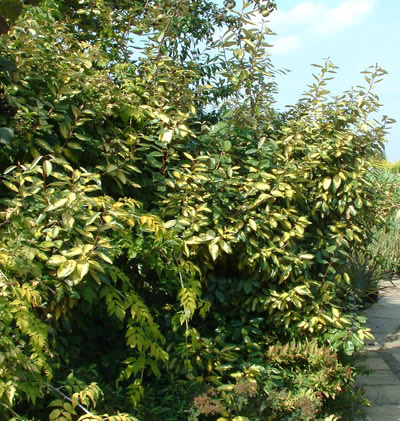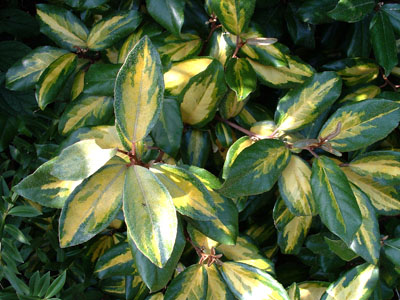 Name
Elaeagnus xebbingei 'Limelight' (also called Oleaster)
Genus  
Elaeagnus
Species
xebbingei
Cultivar/variety
'Limelight'
General description
Tough, variegated evergreen shrub, grown for colourful foliage and scented winter flowers. Suitable for informal hedging. Can tolerate dry soil and a coastal environment.
Season of interest
All year round.
Key horticultural features
Habit – upright, bushy and dense. H&S: up to 3m.

Stem – round, brownish-grey. Slightly rough.

Leaves – lanceolate, glossy and waxy, green splashed with yellow and speckled with silvery markings. Silvery underside.

Flowers – drooping in bunches, bell-shaped, silver-cream coloured. Strongly scented.
Cultural details
Aspect
Full sun or partial shade. Needs some sun to keep variegation.
Soil
Fertile, well drained.
Hardiness
Hardy.
Maintenance
Cut back long or misplaced shoots in late summer and remove any reverted (with all-green leaves) stems. Leaf variegation isn't always immediately obvious on young foliage, as some are slow to colour up, so let them grow to full size before removing what appear to be reverted stems.
May be affected by elaeagnus sucker and coral spot.
Propagation
Semi-ripe cuttings in summer.