Ilex aquifolium
'Silver Queen'

Garden Plant Information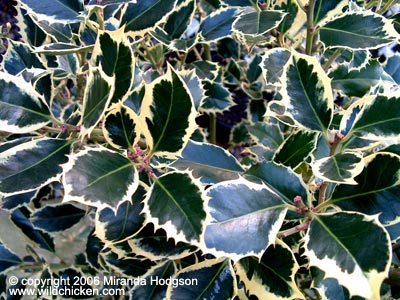 Name
Ilex aquifolium 'Silver Queen' (also called male Holly)
Genus  
Ilex
Species
aquifolium
Cultivar/variety
'Silver Queen'
General description
Robust, slow growing, upright, evergreen tree with glossy prickly leaves. Despite the name, this is a male tree. Useful as a specimen or part of a hedge. Suitable for hedging or as a specimen. Can tolerate maritime exposure and atmospheric pollution. Noted for attracting wildlife.
Season of interest
All year round.
Key horticultural features
Upright, dense habit. H: up to 5m. S: up to 4m.

Leaves elliptic with spiny edges. Thick, glossy and slightly waxy. Variegated – dark green with cream edges. Paler green veins. New leaves are tinged with pink.

Stem round and smooth. Young stems tinged with purple/pink.

Flowers small and yellow. No fruit.
Cultural details
Aspect
Will grow in sun or partial shade. Does well in Quercus (oak) woodland, growing as under storey.
Soil
Well-drained/light, Clay/heavy, Acidic, Chalky/alkaline, Sandy.
Hardiness
Fully hardy
Maintenance
Trim hedges once in late summer. Responds well, if slowly, to hard pruning.
Propagation
Slow rooting. Layer branches or take cuttings in autumn.