Jasminum nudiflorum
Garden Plant Information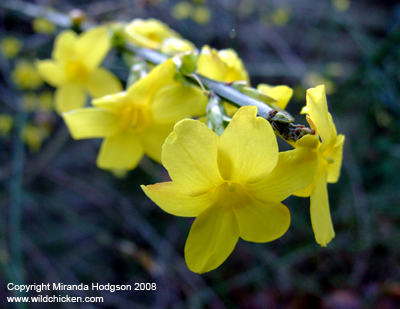 Name
Jasminum nudiflorum (also called Winter Jasmine)
Genus  
Jasminum
Species
nudiflorum
Cultivar/variety
General description
Deciduous, winter flowering, yellow flowered shrub grown as a scrambling climber. Good for winter colour. Can also be used for steep slopes, to stabilise soil, and for ground cover. Tolerates poor soil and urban pollution. Attractive to insects.
Season of interest
Winter and early spring – bright yellow flowers on bare stems.
Key horticultural features
Loose, scrambling habit. H: 3m S: 3m.

Opposite, pinnate, dark green leaves, each divided into 3 oval-oblong leaflets to 3cm long.

Stems arching, bright green. New growth dark green.

Flowers six-petalled,  bright yellow, up to 1cm across, borne singly in the leaf axils, before the leaves, in winter and in early spring.
Cultural details
Aspect
Full sun or partial shade.
Soil
Well-drained/light, Clay/heavy, Acidic, Chalky/alkaline
Hardiness
Hardy
Maintenance
Regular pruning keeps bushes under control and prevents bare dead patches from appearing.
Generally disease free but may be affected by aphids and mealybugs.
Propagation
Take cuttings from May to July. Reacts well to layering. Stems lying on bare earth will root themselves very easily; the rooted stems can be removed and planted elsewhere or potted up.