Kalmia latifolia
'Elf'

Garden Plant Information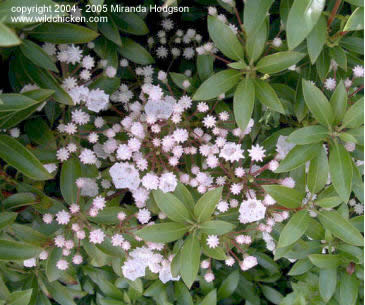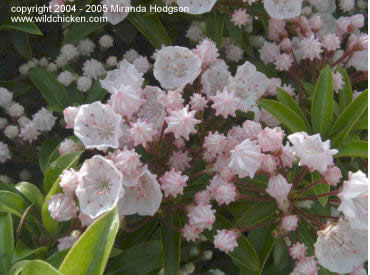 Name
Kalmia latifolia 'Elf' (also called Calico bush and Mountain Laurel)
Genus  
Kalmia
Species
latifolia
Cultivar/variety
'Elf'
General description
Evergreen summer flowering shrub, grown for clusters of unusual pink flowers which look like the sugar sweeties that you used to get on biscuits. Attractive to bees.
Season of interest
Flowers in summer.
Key horticultural features
Habit - little lax in habit at first but becoming more tidy with age. H: 2.5m, S: 2m

Leaves - deep green glossy leaves are around 5cm long and less than half that wide. They grow in rosettes.

Stems - rigid but will droop as more growth grows on the branches, eventually making the branches hang. Young growth is pinkish, greening with age.

Flowers - borne in clusters at the end of pink stems, the buds are pink and sugary-looking a bit like little Chinese lanterns. The open flowers are a paler pink and saucer-shaped.
Cultural details
Aspect
Sun or semi shade.
Soil
Needs moist, peaty, acid soil.
Hardiness
Hardy.
Maintenance
Very little required. Remove dead blooms after flowering. Slow to rejuvenate if cut back hard
Propagation
By seed in autumn or softwood cuttings in summer. Can be layered but this takes up to 18 months.