Kniphofia
'Tawny King'

Garden Plant Information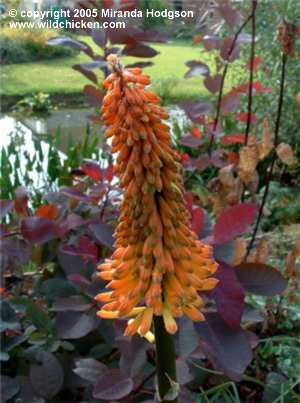 Name
Kniphofia 'Tawny King'  (also called Red Hot Poker 'Tawny King')
Genus  
Kniphofia
Species
Cultivar/variety
'Tawny King'
General description
Vigorous upright hardy perennial. Tall stems bear small orange flowers in summer, on tall dark bronze stems from July to October. Goes well with Cotinus coggygria 'Royal Purple' (shown, in background, above)
Season of interest
Summer to early autumn.
Key horticultural features
Upright habit. H: up to 1.2m.

Stem – straight, bronze-green.

Flowers – tubular, green-tipped, orange buds opening to cream flowers.  
Cultural details
Aspect
Sunny and sheltered. Flowering is reduced if planted in shade.
Soil
Does best in enriched sandy soil, moisture retentive, well drained.
Hardiness
Hardy if in well drained soil
Maintenance
Split and divide large clumps in spring or autumn. Protect from slugs.
Propagation
Divide plants late spring.