Lonicera nitida
'Baggesen's Gold'

Garden Plant Information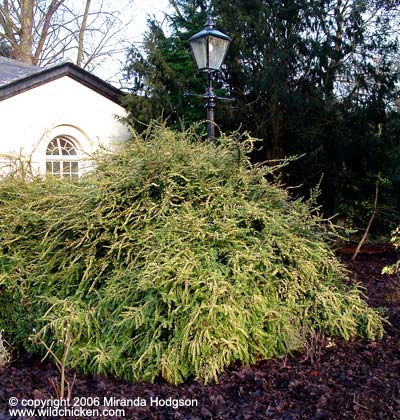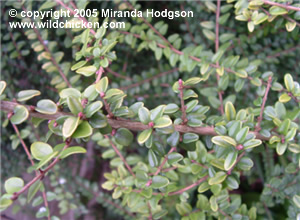 Name
Lonicera nitida 'Baggesen's Gold' (also called Shrubby honeysuckle)
Genus  
Lonicera
Species
nitida
Cultivar/variety
'Baggesen's Gold'
General description
Bushy, evergreen shrub with paired ovate leaves. Useful for hedging and suitable for topiary. Flowers are attractive to insects. The bush itself is much liked by small birds who use it for cover and for nesting.
Season of interest
All year round.
Key horticultural features
Dense, fast growing, fairly untidy habit. H: 150cm. S: 150.

Paired ovate leaves up to 1cm long, glossy, dark green above, lighter beneath, with yellow and, occasionally, purple tinges. Colour fades to pale green in autumn, brightening in summer.

Mature plants develop heavy, thick trunks and have light, fawn coloured bark that peels off in strips revealing a smooth, light-coloured under-bark.

Bears small white/cream flowers followed by purple berries.
Cultural details
Aspect
Full sun or partial shade; develops best colour in sun.
Soil
Well-drained/light, Clay/heavy, Chalky/alkaline, Sandy.
Hardiness
Fully hardy.
Maintenance
Hedges need regular clipping to maintain shape, up to 3 times a year. Specimen shrubs need little pruning unless to maintain size. Responds well to hard pruning and may be renovated by cutting back to 15cm.
Reputed to be resistant to deer. Generally pest free but may be affected by downy mildew.
Propagation
Take cuttings in late spring to early summer, or layer stems.