Malus
x

zumi

'Golden Hornet'


Garden Plant Information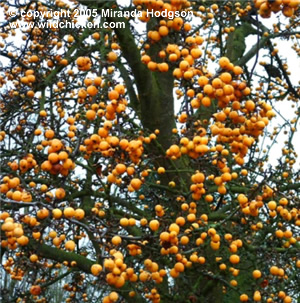 Name
Malus x zumi 'Golden Hornet' (also called crab apple 'Golden Hornet')
Genus  
Malus
Species
x zumi
Cultivar/variety
'Golden Hornet'
General description
Small, deciduous, fruit-bearing tree suitable for small gardens (but not tiny ones). Grown for flowers in spring and a profuse and long lasting display of spherical golden-yellow-coloured fruits. Flowers attract bees and fruits attract birds.
Season of interest
White flowers in spring followed by yellow fruits in autumn.
Key horticultural features
Leaves are alternate, oval to ovate or elliptic, mostly toothed. H: 10m S: 8m.

Bark is dark brown, un-fissured but with occasional rough patches.

Often fragrant flowers, 2-5cm across, borne singly or in umbels.

More or less spherical bright yellow-orange fruits, variable in size (2-3cm across). Waxy skin, creamy white flesh, fruits last well into winter.
Cultural details
Aspect
Prefers sun but will tolerate partial shade.
Soil
Fertile, moist but well-drained soil.
Hardiness
Fully hardy.
Maintenance
Prune in late winter or early spring, removing crossing shoots/boughs. Mulch root area with manure and apply a fertiliser in spring.
As with all apples, this tree may be affected by wooly aphid, fruit tree red spider mite and caterpillars. In terms of diseases, apple scab, canker and powdery mildew are all possible, but if the tree is properly pruned and fed these should not really be a problem.
Propagation
Sow seed in a seedbed in autumn, though cultivars may not come true. Bud in late summer. Graft in mid-winter.