Molinia caerulea
subsp

. caerulea

'Variegata'


Garden Plant Information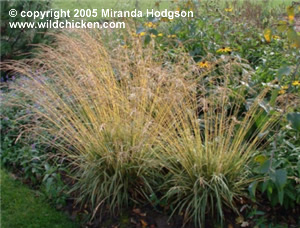 Name
Molinia caerulea subsp. caerulea 'Variegata' (also called Variegated purple moor grass)
Genus  
Molinia
Species
caerulea
Cultivar/variety
subsp. caerulea 'Variegata'
General description
Clump forming, deciduous, ornamental grass with green and cream striped leaves. Combines well with Rudbeckias and other prairie-style perennials. The fine, light leaves add movement to the garden and last well through to autumn. They look very good with the late summer and autumn sun shining through them.
Season of interest
Purplish flower spikes and variegated leafs from summer to autumn.
Key horticultural features
Dense, upright, arching habit.

Stems – straight, creamy-yellow.

Leaves – arching, flat, green with cream stripes.

Flowers – arched stems carry spikes of purplish flowers.
Cultural details
Aspect
Full sun or partial shade.
Soil
Well drained to moist. Acid to neutral.
Hardiness
Hardy.
Maintenance
Lift and divide congested clumps in autumn or spring. If not supported by other plants use ring stakes or brushwood supports before flowering. Remove old flower heads in spring and comb out dead foliage using a hand fork.
Generally free of pests and diseases.
Propagation
Divide in spring or autumn. Sow seeds in spring in a cold frame.