Nectaroscordum siculum subsp.
bulgaricum

Garden Plant Information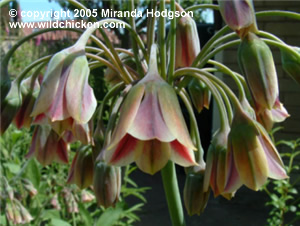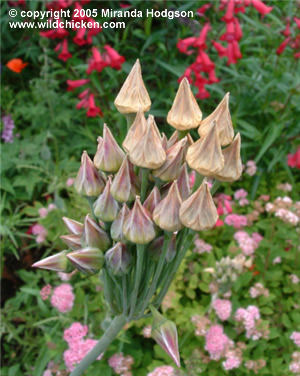 Name
Nectaroscordum siculum subsp. bulgaricum (also called Sicilian honey garlic)
Genus  
Nectaroscordum
Species
siculum
Cultivar/variety
subsp. bulgaricum
General description
Bulbous ornamental onion, flowering in early summer. The flower literally drips nectar and is very attractive to bees.
Season of interest
Flowers in summer followed by upright seed heads.
Key horticultural features
 Habit – upright stem, lax leaves. H: 120cm, S: 10cm.

 Leaves – strap-like, keeled, mid-green and give off a pungent aroma when crushed.

Stem – mainly upright, though some bend at the bottom. Green and round. Stems snap easily so take care when working near this plant.

Flowers and seeds - loose clusters of drooping, bell-shaped, purple-flushed flowers in May and June, tinted green at the base. The flowers drip a smelly nectar which is attractive to insects. As the flower begins to produce seed pods, each of the flower heads turns upwards, like a cluster of tiny minarets (see photo above). The seed heads are also good for use in flower arranging, either fresh or dried.
Cultural details
Aspect
Sun or partial shade.
Soil
Well drained, light.
Hardiness
Fully hardy.
Maintenance
Lift and divide clumps in autumn. Grow amongst plants that have foliage which will support the stems, which can be a bit floppy.
Generally pest and disease free.
Propagation
Plant seeds in autumn or divide clumps in spring. May also self seed.