Photinia x fraseri 'Red Robin'
Garden Plant Information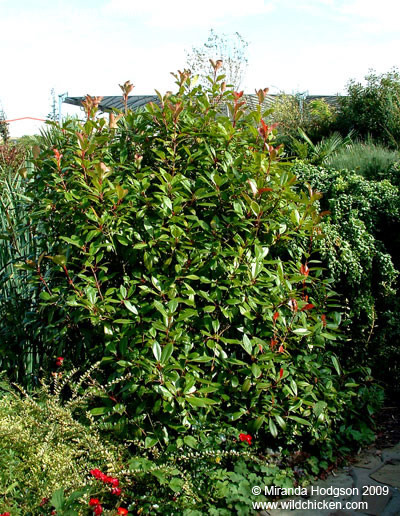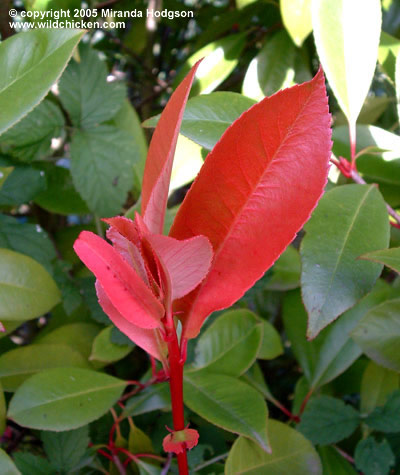 Name
Photinia x fraseri 'Red Robin' (also called Christmas berry)
Genus  
Photinia
Species
x fraseri
Cultivar/variety
'Red Robin'
General description
Evergreen shrub grown for colourful young growth, which is bright red, turning green as the leaves mature. Can be used in mixed planting or as an informal hedge. The young growth looks good in sunlight and also brightens a lightly shaded area. The spring flowers attract insects.
Season of interest
All year round.
Key horticultural features
Habit – upright, open. H: up to 6m. S: up to 4m.

Leaves – adult foliage is glossy and dark green. Young growth is red. Leaf is simple and lanceolate.

Stem – older growth brown and woody, young growth reddish-brown. Stems are round and smooth.

Flowers - clusters of small, white flowers in mid and late spring, sometimes followed by spherical red fruit.
Cultural details
Aspect
Sun or semi-shade.
Soil
Fertile, well-drained neutral to acid.
Hardiness
Frost hardy, but grow against a south or west facing wall to give it some protection as the young growth can sometimes be caught by late frosts. The specimen we have here grows against a west facing wall and is doing well. If we get this forecast hard winter, it'll be interesting to see how it gets on. I'll update in spring.
2007 update:
Forgot to update the page, didn't I? The winter of 2005 was a bit colder than the year before and we had some snow in the second half of February. Anyway, the Photinia was just fine, although it did suffer a little from some leaf spot during a particularly wet period. Now that it is fully established it seems quite contented.
Maintenance
Prune in spring, cutting back stems by about 15cm, to encourage new red growth and to keep shrub bushy. Mulch with garden compost in spring.
Propagation
Semi-ripe cuttings in summer.