Rudbeckia fulgida
var.

sullivantii

'Goldsturm'


Garden Plant Information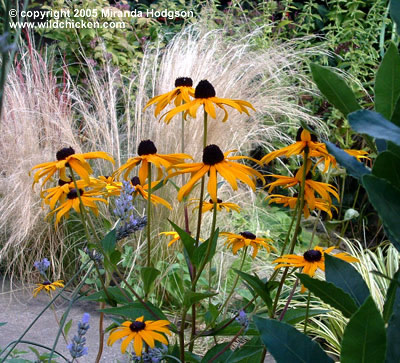 Name
Rudbeckia fulgida var. sullivantii 'Goldsturm' (also called Black-eyed Susan and coneflower 'Goldsturm')
Genus  
Rudbeckia
Species
fulgida
Cultivar/variety
var. sullivantii 'Goldsturm'
General description
Clump forming hardy perennial. Daisy like flower on lax stems. Long lasting as a cut flower. Good for informal and prairie planting and also combines well with ornamental grasses. The cheerful flowers give rich colour late in the season when many other perennials have already finished flowering; they look especially lovely in the late golden light of autumn. The flowers are attractive to bees and hoverflies.
Season of interest
Flowers in late summer and autumn.
Key horticultural features
Lax habit. H: 60cm. S: 45cm.

Stems – round, green with brown-red markings.

Leaves – rich green, lanceolate, toothed.

Flowers – golden yellow, daisy-like with raised dark centres.
Cultural details
Aspect
Full sun or partial shade.
Soil
Fertile, well-drained. Grows well on improved clay soils.
Hardiness
Hardy.
Maintenance
Lift and divide congested clumps in autumn or spring. If not supported by other plants use ring stakes or brushwood supports before flowering starts. Deadhead to prolong flowering.
Said to be generally pest and disease free, but the plants in my garden were attacked by slugs and snails this spring and summer (2005). This could be because it was a bumper year for slugs and snails, though.
Propagation
By seed, though it may not come true, or divide in spring or autumn.