Rudbeckia triloba
Garden Plant Information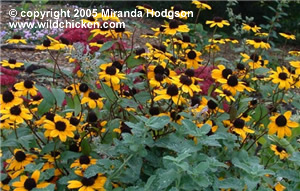 Name
Rudbeckia triloba  (also called Brown-eyed Susan)
Genus  
Rudbeckia
Species
triloba
Cultivar/variety
General description
Clump forming biennial. Profuse golden-yellow daisy-like flower on dark, wiry, lax stems. Combines well with other herbaceous plants and the shorter ornamental grasses. Good for mixed and prairie-style planting. Gives good colour late in the season when many herbaceous plants have already finished flowering. The flowers are attractive to bees, butterflies and hoverflies.
Season of interest
Flowers in summer and autumn.
Key horticultural features
Lax habit. H: 60cm. S: 45cm.

Stems – round, slender, almost wire-like, dark brown, hairy.

Leaves – alternate, rich green, lanceolate, toothed.

Flowers – golden yellow, daisy-like with raised dark brown centres. Petals are a rounded oblong shape.
Cultural details
Aspect
Full sun or partial shade.
Soil
Well drained. Good drought resistance.
Hardiness
Hardy.
Maintenance
Lift and divide congested clumps in autumn or spring. If not supported by other plants use ring stakes or brushwood supports before flowering.
Generally disease free but the young growth may be affected by slugs.
Propagation
Divide in spring or autumn.