Sedum telephium
'Matrona'

Garden Plant Information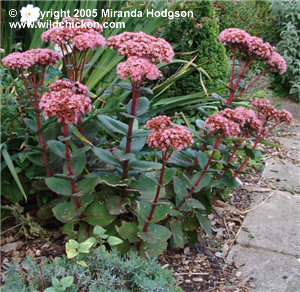 Name
Sedum telephium 'Matrona' (also called Orpine)
Genus  
Sedum
Species
telephium
Cultivar/variety
'Matrona'
General description
Clump forming perennial with succulent leaves and clusters of purple-pink flowers. More upright and less floppy than S. spectabile. Drought tolerant when established and low maintenance. Very attractive to wildlife.
Season of interest
Flowers in late summer and autumn, architectural seed heads last over winter.
Key horticultural features
Upright to slightly lax habit.

Leaves – succulent, oval, toothed, no petioles.

Stems – round and straight, reddish-brown, smooth.

Flowers – domed heads of clustered, tiny star-like flowers in dark pink.
Cultural details
Aspect
Full sun or partial shade.
Soil
Moderately fertile, well-drained, neutral to slightly alkaline soil. Tolerates drought once established.
Hardiness
Hardy.
Maintenance
Fairly low-maintenance. Cut back faded flower-heads in February or March and apply a mulch of well-rotted garden compost or manure around the base of the plant. Lift and divide in spring or summer every three or four years.
Propagation
By division in spring or by cuttings in spring or early summer.