Streptocarpus '
Crystal Ice'

Garden Plant Information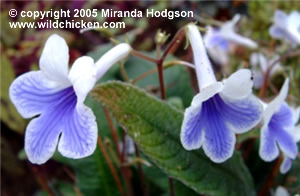 Name
Streptocarpus 'Crystal Ice' (also called Cape primrose 'Crystal Ice')
Genus  
Streptocarpus
Species
Cultivar/variety
'Crystal Ice'
General description
Flowering, green leaved house plant. Originates in South Africa. Useful as part of a mixed indoor display. Mainly used as a house plant but can also be grown outdoors in summer, in humus-rich, moist but well-drained soil, in partial shade. Goes well in containers.
Season of interest
Flowers in summer.
Key horticultural features
Rosette of coarse, crinkled, stemless leaves up to 20cm long.

Prominent, pale green, central leaf vein.

Trumpet shaped flowers, up to 5cm across, borne above leaves on slender green stems. Usually white, blue, purple, pink or red with veined white throats
Cultural details
Aspect
Keep out of bright direct sun in east or west facing window.
Soil
Peat or fibre based compost.
Hardiness
Minimum of 15c in winter.
Maintenance
Keep moist, but not wet, and feed weekly during growing season. Allow to dry out between waterings. Lightly mist with water occasionally. Repot every year in spring, but not into too large a pot or flowering will be poor. Remove dead leaves and flowers promptly to prevent fungal infection. Allow to rest over winter.
Propagation
Leaf cuttings – whole leaf, leaf sections or half a leaf set into moist compost, covered and kept warm for 6-8 weeks till plantlets emerge at base. These can be potted up and grown on. This plant may self-seed if the faded flowers are not removed.