Eryngium giganteum
'Silver Ghost'

Garden Plant Information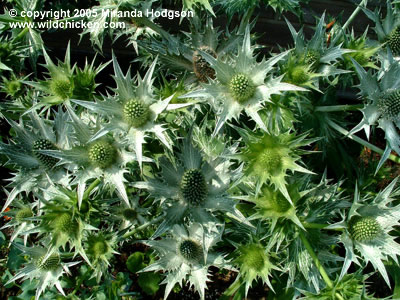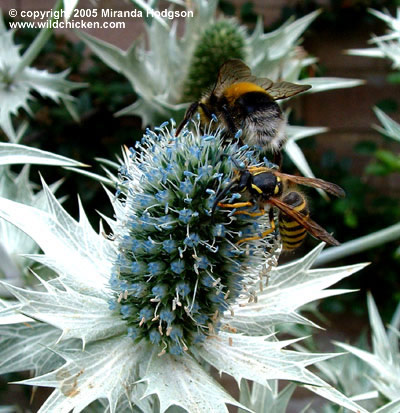 Name
Eryngium giganteum 'Silver Ghost' (also called Sea Holly)
Genus  
Eryngium
Species
giganteum
Cultivar/variety
'Silver Ghost'
General description
Also known as Sea Holly. Rosette forming herbaceous perennial with very spiny bracts. Very attractive to bees, butterflies and moths.
Season of interest
Summer and autumn. Seed heads can be left on over winter for birds to forage.
Key horticultural features
Habit – upright and stiff. H: 90cm S: 30cm.

Stems – round, stiff, pale grey-green.

Leaves – rosette of large, oval, green leaves. In the second year it produces spiny-edged, petiole-free leaves with spines at regular intervals up the stem.

Flowers – tiny blue flowers borne on a cone-shaped head, surrounded by spiny bracts.  
Cultural details
Aspect
Full sun.
Soil
Dry, well-drained, poor to moderately fertile soil. The plant is drought tolerant.
Hardiness
Hardy.
Maintenance
Lift and divide congested clumps in spring. Leave seed heads for wild birds to forage and for winter interest.
Propagation
Divide clumps in spring. Will also self-seed. Dig up and replant self-seeded plants early as the plant is tap-rooted and resents disturbance.