Osmanthus x burkwoodii
Garden Plant Information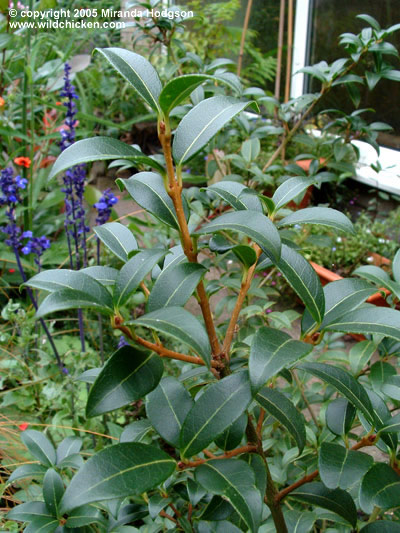 Name
Osmanthus x burkwoodii (also called Burkwood osmanthus)
Genus  
Osmanthus
Species
x burkwoodii
Cultivar/variety
General description
Evergreen shrub grown for foliage and sweetly fragrant flowers in spring. Suitable as a specimen shrub or for hedging/screens in sheltered areas. Low maintenance.
This plant is a hybrid between O. decorus and O. delavayi.
Season of interest
All year round, but flowers in spring.
Key horticultural features
Habit – dense and bushy. H&S: 3m.

Leaves – dark green, glossy, ovate, slightly serrated, up to 2.5cm long.

Flowers – clusters of small, sweetly fragrant, white, trumpet shaped flowers appear in spring.
Cultural details
Aspect
Full sun to partial shade.
Soil
Fertile, well drained, light.
Hardiness
Hardy, but protect from harsh north and east winds.
Maintenance
Remove misplaced, dead or diseased branches in late spring and apply a generous mulch of garden compost or manure.
Generally pest and disease free.
Propagation
Sow seed in a cold frame as soon as it is ripe; seeds can take up to 18 months to germinate. Take semi-ripe cuttings in mid-summer and use bottom heat to encourage rooting.