Sorbus vilmorinii
Garden Plant Information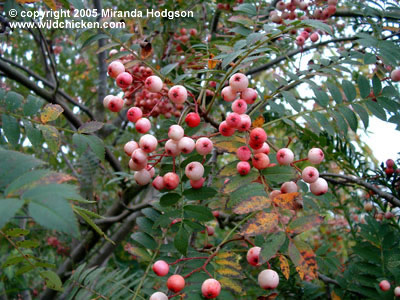 Name
Sorbus vilmorinii (also called Vilmorin's rowan)
Genus  
Sorbus
Species
vilmorinii
Cultivar/variety
General description
Deciduous, spreading tree with arching branches. Fruits in autumn, which are unusual for starting red and then fading to pale pink or white, so you get all shades on the same cluster of berries. A good tree for small and wildlife gardens. Low maintenance. Notably attractive to birds and insects.
Season of interest
Flowers in spring, berries in autumn.
Key horticultural features
Elegant, arching branches. H: 5m S: 5m

Leaves – feathery, compound leaves in grey-green.

Flowers – clusters of creamy white flowers in spring.

Fruits – clusters of spherical fruits start red and fade to pale pink or white as autumn progresses.
Cultural details
Aspect
Sun or light shade.
Soil
Any reasonably fertile and moist garden soil.
Hardiness
Fully hardy.
Maintenance
Remove damaged or crossing growth in late winter.
Propagation
Take softwood cuttings in summer, graft in winter or sow seed in autumn.