Pyracantha
'Soleil d'Or'

Garden Plant Information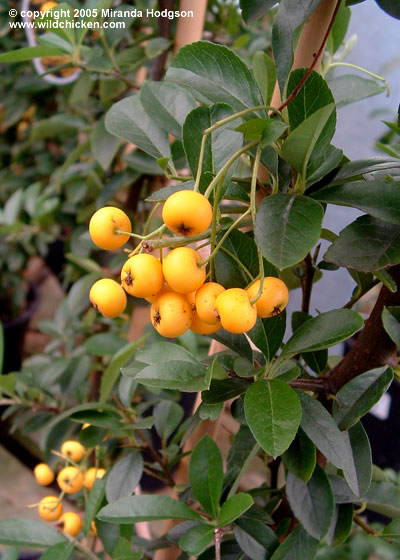 Name
Pyracantha 'Soleil d'Or' (also called firethorn)
Genus  
Pyracantha
Species
Cultivar/variety
'Soleil d'Or'
General description
Upright, evergreen spiny shrub. Attractive to birds and insects. H: to 3m, S: 2.5m
Season of interest
Small white flowers in summer, rich yellow berries in autumn.
Key horticultural features
Upright, dense, arching branches.

Oval, glossy, mid-green leaves.

Older growth dark brown with a slight purplish tinge. Hard, round, sharp spines, up to 3cm long emerge from stem.

Clusters of small white 5-petalled flowers in summer. bunches of spherical gold-yellow berries in autumn.
Cultural details
Aspect
Sheltered in sun or partial shade. Best grown against a wall, with support.
Soil
Well drained.
Hardiness
Hardy.
Maintenance
Train and cut back long shoots after flowering to produce compact habit. Wear long sleeves and thick gloves as spines are very sharp.
Propagation
Semi-ripe cuttings in summer. Will also self seed.