Tricyrtis hirta
Garden Plant Information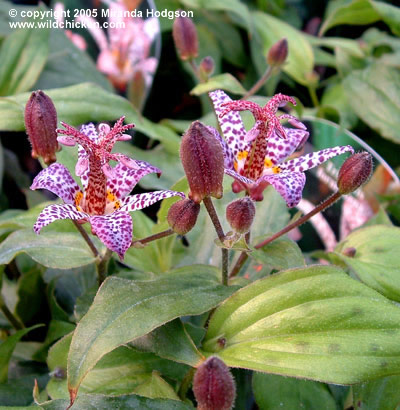 Name
Tricyrtis hirta (also called toad lily)
Genus  
Tricyrtis
Species
hirta
Cultivar/variety
General description
Clump-forming perennial of the lily family, grown for exotic-looking speckled flowers. Combines well with hardy ferns.
Season of interest
Flowers in late summer and autumn.
Key horticultural features
Upright, spreading habit. H: 80cm  S: 60cm.

Stems – round, green with some brownish tinges, slightly hairy.

Leaves – mid-green, lanceolate, no petiole.

Flowers – five white sepals, spotted with purple and with a yellow patch at the base of each, surround a group of stigmas forming a solid cross, protruding from the centre of each. All parts of the flower are spotted with purple.
Cultural details
Aspect
Partial shade to shade. Useful for woodland planting schemes. Tolerates sunnier positions if the ground is moist but may be susceptible to leaf scorch.
Soil
Moist, Well-drained/light. Prefers a slightly acidic soil.
Hardiness
Hardy.
Maintenance
Protect from slugs. Plants benefit from a deep mulch of organic matter in prolonged cold spells if not blanketed by snow.
Propagation
Division of clumps during winter dormancy.