Caryopteris x clandonensis '
Heavenly Blue'

Garden Plant Information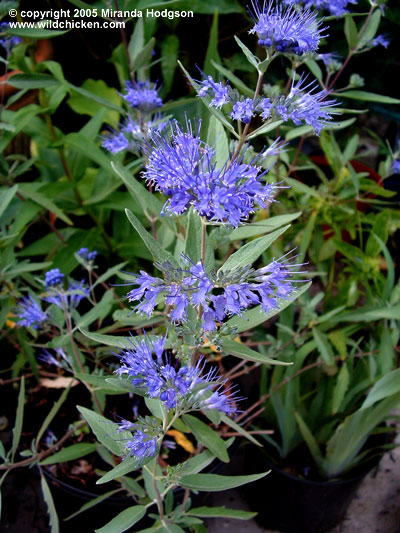 Name
Caryopteris x clandonensis 'Heavenly Blue' (also called bluebeard)
Genus  
Caryopteris
Species
x clandonensis
Cultivar/variety
'Heavenly Blue'
General description
Deciduous dome-shaped shrub, grown for blue flowres in late summer and autumn. Very attractive to bees and butterflies.
Season of interest
Late summer to autumn.
Key horticultural features
Upright compact mass of lance shaped grey-green leaves. H&S: 1m x 1m

Lightly serrated, stemmed leaves, deep green. Paired at opposite angles and fairly widely spaced on stem.

Stem round and greyish green.

Clusters of tubular, purplish-blue flowers with prominent stamens
Cultural details
Aspect
Sun
Soil
Light, well drained, moist.
Hardiness
Frost hardy.
Maintenance
Cut back in spring to prevent a bare base from developing.
Propagation
Cuttings in late spring/early summer.