Heuchera sanguinea'Geisha's Fan'
Garden Plant Information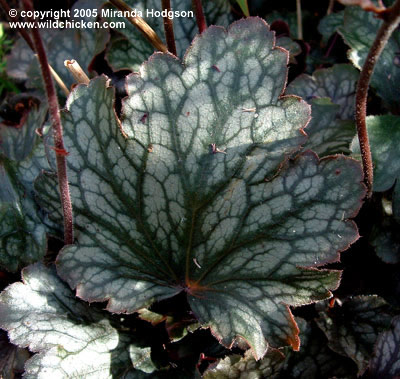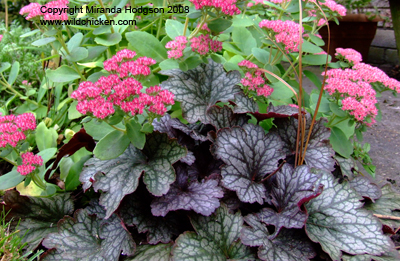 Heuchera 'Geisha's Fan' with Sedum 'Herbstfreude' - the Sedum was chopped
back in early summer (the 'Chelsea Chop') to stop it flopping over the Heuchera.
Name
Heuchera sanguinea 'Geisha's Fan' (also called alum root and coral flower)
Genus  
Heuchera
Species
sanguinea
Cultivar/variety
 'Geisha's Fan'
General description
Clump forming herbaceous perennial with bronze/green/silver marbled leaves and flowers in spring and summer. Useful for ground cover and path edging. Attractive to insects.
Season of interest
Evergreen with flowers in spring and summer.
Key horticultural features
Habit – neat, well behaved, clump forming. H&S: 50cm

Stems – slender, arching, round, purple and slightly hairy.

Leaves – silvery with dark green veins and bronze-red edges.

Flowers – tiny pale pink flowers borne on slender purple stems held above the foliage.
Cultural details
Aspect
Full sun or partial shade. More sunlight keeps the variegation from fading.
Soil
Fertile, moisture retentive.
Hardiness
Hardy.
Maintenance
Remove flowering stems when blooms have finished. Lift and divide congested clumps in autumn to prevent plant becoming woody.
Propagation
Divide and replant clumps in autumn.