Nicotiana sylvestris
Garden Plant Information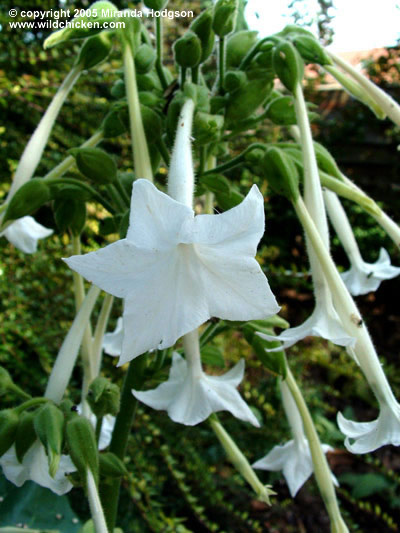 Name
Nicotiana sylvestris (also called tobacco plant)
Genus  
Nicotiana
Species
sylvestris
Cultivar/variety
General description
Tender perennial, usually grown as an annual, grown for white flowers which are scented at night. Attractive to night insects such as moths.
Season of interest
Flowers from July to September.
Key horticultural features
Habit – upright, sometimes slightly leaning.

Stems – round, slightly hairy and sticky.

Leaves – large, oval, mid-green, slightly sticky.

Flowers – flared trumpet-shaped white flowers hang in clusters from the top of the stem. Sweetly scented at night.
Cultural details
Aspect
Sun to shade, prefers dappled shade.
Soil
Fertile, moist, well-drained.
Hardiness
Half hardy.
Maintenance
Keep soil moist and feed every two weeks in growing season. Has a tendency to droop in midday heat if planted in full sun. May survive very mild winters.
Popular with slugs and snails.
Propagation
Sow seed in March-April at around 18°C and plant out when frosts are over. May self-seed in mild years.