Cyclamen hederifolium
Garden Plant Information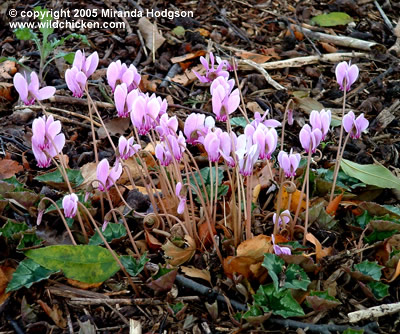 Name
Cyclamen hederifolium (also called ivy-leaved cyclamen)
Genus  
Cyclamen
Species
hederifolium
Cultivar/variety
General description
Hardy, tuberous perennial grown for flowers in autumn and marbled green-silver leaves. Makes excellent ground cover in shady areas under trees.
Season of interest
Autumn and early winter.
Key horticultural features
Habit – low growing, forming neat spreading clumps. H: 12cm S: 15cm

Stems – round, pale pinkish-brown.

Leaves – rounded heart-shape, often lightly toothed and slightly lobed in a similar way to an ivy leaf (hence the name 'hederifolium' meaning 'ivy-leaved'), silvery markings on a dark green background and usually dark pink/purple underneath.

Flowers – nodding pink/carmine/white flowers held above the leaves on slender stems. Petals are reflexed and twisted. Flowers are sometimes scented.
Cultural details
Aspect
Does best in shade.
Soil
Moderately fertile, humus-rich, well-drained soil. Avoid summer wetness by planting under tall shrubs or trees.
Hardiness
Fully hardy.
Maintenance
Mulch with leaf mould in spring when leaves die back. Vine weevils may be a problem in pot grown specimens.
Propagation
Sow fresh seed as soon as it ripens in summer, or plant tubers 3-5cm deep in fertile humus-rich soil.