Penstemon'Garnet'
Garden Plant Information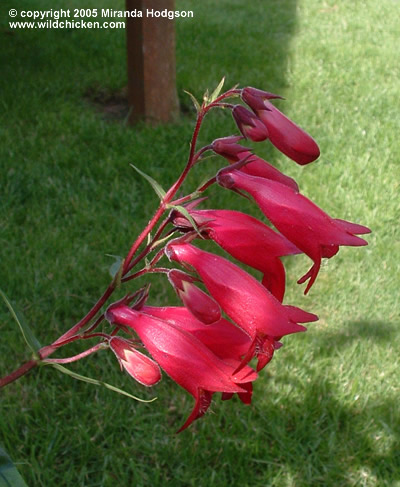 Name
Penstemon 'Garnet' (aka P. 'Andenken an Friedrich Hahn')
Genus  
Penstemon
Species
Cultivar/variety
'Garnet' (aka P. 'Andenken an Friedrich Hahn')
General description
Bushy semi-evergreen perennial with many deep wine-red flowers from early summer to late autumn. Attractive to bees and hoverflies.
Season of interest
Flowers from early summer to late autumn.
Key horticultural features
 Habit – bushy, upright to slightly lax. H: 1m S: up to 1.5m

Stems – round, smooth, slender, red-tinged, straight or slightly lax.

Leaves – dark green, narrow, pointed, smooth.

Flowers - erect racemes of tubular bell-shaped, deep wine-red flowers with white markings in the throat, 3cm long.
Cultural details
Aspect
Full sun to partial shade.
Soil
Fertile, well drained.
Hardiness
Borderline fully hardy (may depend on winter drainage as the plant dislikes soggy ground in winter).
Maintenance
Deadhead regularly to prolong flowering. After flowering has finished, cut back and mulch with compost. In colder areas leave stems to protect the plant over winter and cut back in early spring.
May be susceptible to Chrysanthemum Eelworm, often confused with die-back as the leaves and stems turn brown and die. No chemicals are available to the home gardener, so remove and destroy affected plants.
Propagation
Roots easily. Take cuttings from non-flowering stem tips in late summer and over winter for planting out the following year.