Cornus sericea  'Flaviramea'
Garden Plant Information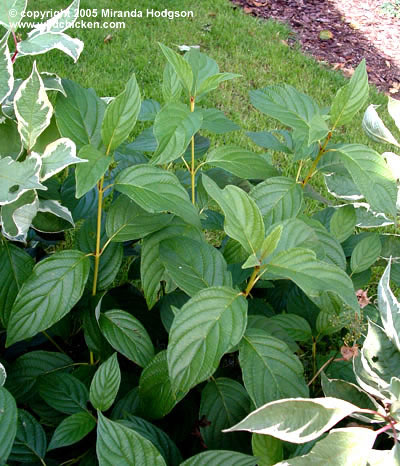 Name
Cornus sericea  'Flaviramea' (also called Dogwood)
Genus  
Cornus
Species
sericea (formally known asstolonifera )
Cultivar/variety
'Flaviramea'
General description
Deciduous shrub grown for bright green winter stems and green foliage in spring and summer. Looks good growing next to red-stemmed Cornus. Can be used for an informal hedge. Flowers are attractive to insects.
Season of interest
Winter colour from the stems and green foliage in winter and summer.
Key horticultural features
Habit - upright, slightly arching. H: up to 3m. S: up to 3m.

Stems - straight, round, smooth and bright greenish-yellow.

Leaves - ovate, mid to dark green with deep veins.

Flowers - clusters of small white flowers followed by white spherical fruits.
Cultural details
Aspect
Full sun to partial shade.
Soil
Moderately fertile, moisture retentive. Does well at the side of ponds and rivers.
Hardiness
Fully hardy.
Maintenance
Usually by coppicing in spring - cutting back hard to within 5cm of the ground in the second year after planting, and every year thereafter. Bear in mind that this will prevent flowering as Cornus flowers on old wood. To have flowers as well as colourful stems, cut back one third of the oldest or thickest stems.
Propagation
Take hardwood cuttings from November to January.