Cotinus coggygria'Golden Spirit'
Garden Plant Information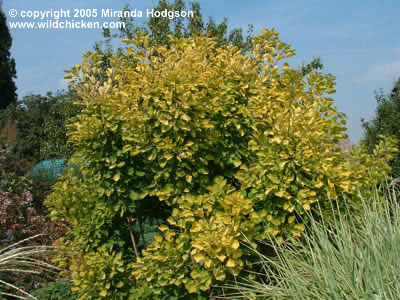 Name
Cotinus coggygria 'Golden Spirit' (also called Smoke bush 'Golden Spirit')
Genus  
Cotinus
Species
coggygria
Cultivar/variety
'Golden Spirit'
General description
Large shrub with bright green-gold leaves and sprays of tiny flowers in summer. For extra effect, plant in a sunny spot as this intensifies the gold leaf colour.
Season of interest
Purple leaves in summer, turning red in autumn. Clusters of tiny flowers in summer give a smoke-like impression.
Key horticultural features
Upright, rounded, dense foliage. H&S: 2.5m.

Leaves – rounded oval, smooth edged, bright golden-green. Younger foliage is tinged with red.

Stems – rounded, grey-brown.

Flowers – dense cluster of tiny white flowers give the plant the appearance of giving off puffs of smoke.
Cultural details
Aspect
Does best in full sun.
Soil
Moderately-fertile, moist, well-drained soil.
Hardiness
Hardy.
Maintenance
To promote the growth of larger leaves, cut the stems back to within two or three buds of the base in early spring. Afterwards, mulch well with compost or manure.
Propagation
Cuttings of half-ripe wood in summer or sow seed as soon as it is ripe – germination may be slow, taking up to 12 months.